Lately, many NFT projects have been popping up on the Internet Computer. I am addicted to NFTs now, thanks to the Internet Computer. These NFTs run on-chain, and they are not just JPEGs.
Let's get involved in the Internet Computer and the NFT craze.
NFTs by definition are immutable assets stored on the blockchain.
When we generally talk about NFTs, many assume that NFTs are limited to JPEGs and art whose ownership is validated by a blockchain. But that assumption barely scratches the surface of Non-Fungible Tokens, and NFT sales have crossed 10 Billion USD over the last year.
The gameplay and the unique concept of Engage-to-Earn alone is a game-changer for the NFTs, but I will talk about how this project will disrupt the crypto avatar space.
NFTs are programmable too.
So Why does the Internet Computer make NFTs Special?
On-chain hosting and stable cheaper minting fees.
Infinite Scaling and web speed.
Unbounded composability and collaboration opportunities with dapps and Open Internet Services.
Next-generation smart contract capabilities of canisters are going to blow up the NFT Industry with interactive NFT metaverses.
The Internet Computer can create and host the Metaverse from scratch - Both front-end and back-end.
The Internet Computer has a reverse gas model, where users don't pay gas fees for interacting with the blockchain, including executing smart contract functions and minting NFTs.
Here's a quote from Forbe's post on The Missing Layer of utility for  NFTs.
This is a future that many describe as the metaverse — a world owned by its users, with open standards between inter-operable games and virtual worlds so that players can seamlessly transact and use the items they own across various properties. While this represents a huge technical and creative challenge, this is where we are undeniably headed.
What can NFTs do on the Internet Computer?
Staking, accessing key NFTs, and Play 2 Earn are just the tip of the iceberg regarding what the  Internet Computer can do.
Because NFTs represent immutable digital assets, they are no longer just art or without utility on the Internet Computer.  The missing layer of utility is provided by Internet Computer Protocol through powerful web-speed smart contracts.
ICP Squad is bringing the First Engage-To-Earn Game.
Engage-to-Earn Concept by ICP Squad
Instead of rewarding activity on a specific play-to-earn game, engage-to-earn is a game model where anyone who owns an ICP Squad character can win rewards by engaging in the Internet Computer ecosystem. All kinds of wallet and dapp activity increase the player's chance of getting a valuable NFT airdropped to their wallet.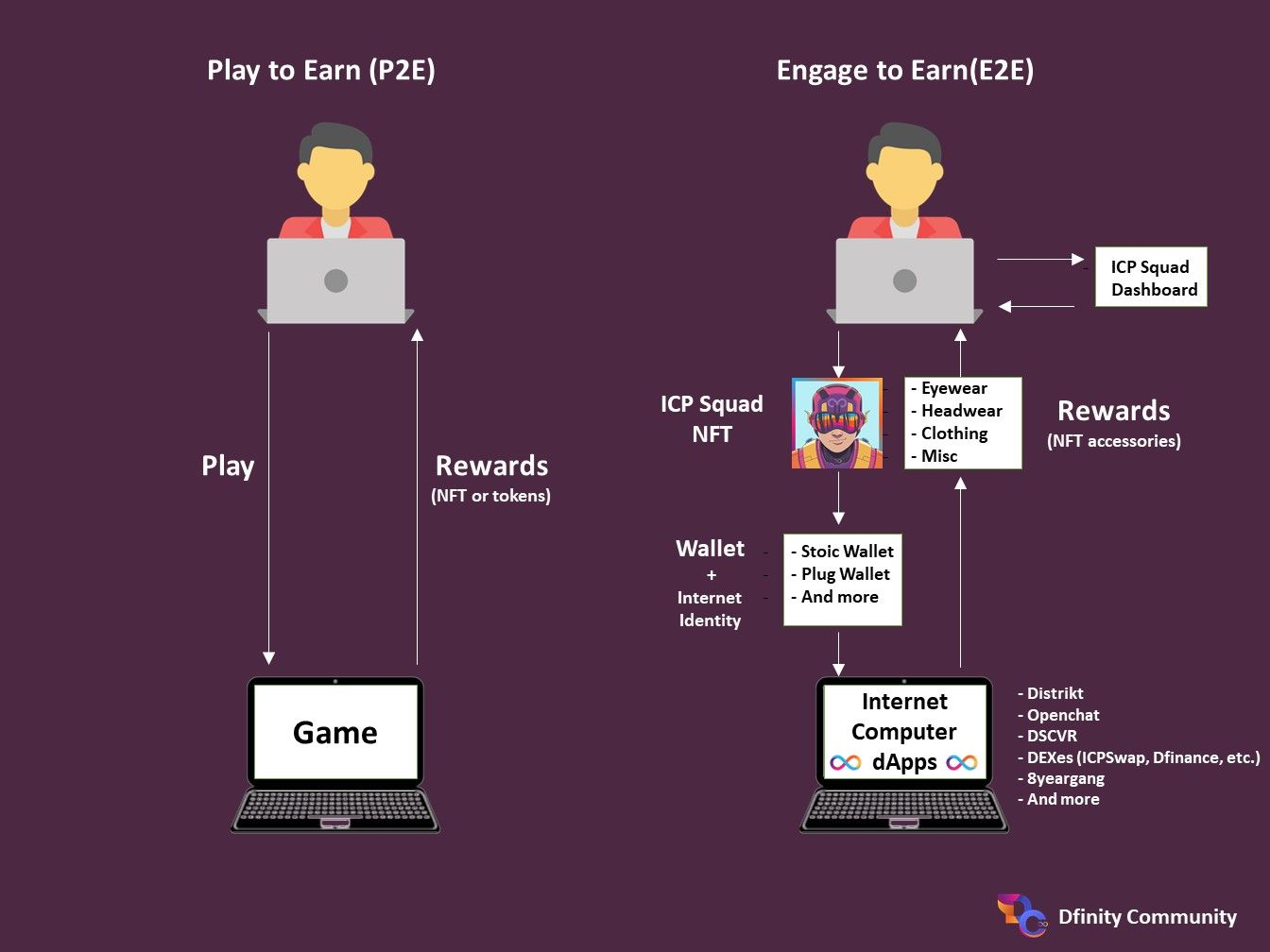 Our pre-order process is open! Get an amazing level 3 ICP Squad NFT for only 1 ICP (save 4 ICP). Join here.
ICP Squad NFT Project is not just a JPEG
We are the biggest community on the Internet Computer, and we appreciate and understand the power of the Internet Computer.
We are happy to collaborate with other Internet Computer projects
Our artist is well-recognized within the community and produces incredible art.
Users can customize their avatars and mint their NFTs.
ICP Squad will be one of the most Interactive NFTs on the Internet Computer.
ICP Squad NFTs can be customized and minted by users.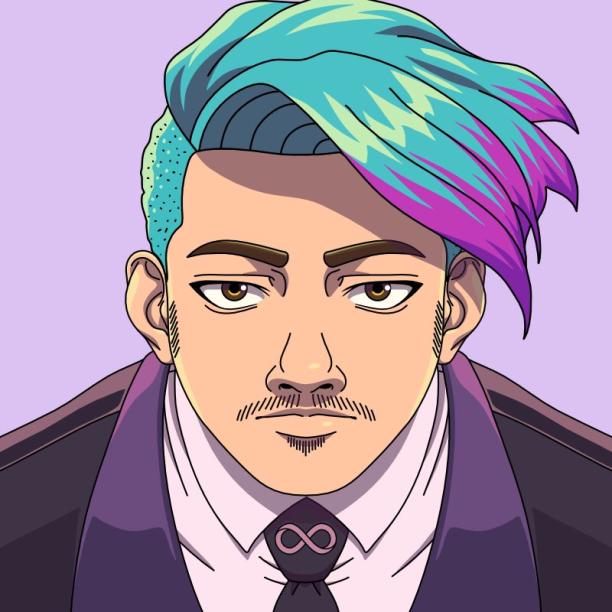 Some of the accessories can be won by interacting with the Internet Computer dapps
Here are some of our early ideas:
Party Hat: Increases the chance of winning rewards by 500% for social media-related activities on apps like DSCVR or Distrikt.
Business Suit: Increases the chance of winning rewards by 300% for economic-related activities like swapping tokens on a DEX or sending ICP to another wallet.
Diamond Hands: Gives the character a chance for winning awards just for holding ICP in their wallet. Increases odds of winning a reward by 800% for all staking-related actions, and this bonus is increased to 2,000% if they have a neuron with an 8-year dissolve delay.
Why will ICP Squad NFTs become one of the most significant NFT Projects?
ICP Squad NFTs make me even more optimistic about Internet Computer NFTs. In my opinion, this will be one of the best collaborative projects across the Internet Computer.
Welcome to the ICP Squad NFT Community
We have been working hard to build a community and a project, and we have attracted many new people to the ICP ecosystem.
For the ICP Squad, the sky will be the limit, but we are currently focused on art and gameplay. We chose a no-cap approach, as opposed to the traditional capping methods.
We discussed with the community on our discord channel and put forward a proposal regarding a cap and the sale.
We received 88% positive votes to execute the proposal to remove the limit on the cap. However, the whitelisting and minting will be limited to that particular season. Thus the funds collected will go to artwork and finishing gameplay and then into the DAO.
Crypto Avatars Meet Game-Fi
Interactive NFTs are game-changers for the NFT space in general. ICP Squad blends the concept of crypto avatar and play-to-earn genre into the novel Engage-to-Earn concept, which is only possible on the Internet Computer.
Mekaverse has received a lot of attention from the general crypto community. However, all they have shown on the roadmap is Artwork and Merchandise (Action figures).
The crypto avatars we see now are with no utility, and demand is fueled by hype and scarcity. Scarcity can be a good thing, but it ultimately becomes a bottleneck for many exciting opportunities.
The answer is that scarcity is necessary, but not sufficient enough on its own, to create value. Therefore, we can look at value as a mix of various other parameters:
Value = Scarcity + Utility + Reputation + Liquidity    - Forbes on NFTs.
ICP Squad took a different approach with the NFT volume. We decided we would not limit the cap to enter gameplay, and no one would be left behind. Scarcity comes with seasonal limitations for these characters and also with the rewards collected by the players during their gameplay. As users interact with Internet Computer, they will be airdropped with accessories.
Accesories slowly wear-out (burn) over weeks, driving deflationary pressure.
We will bundle the artwork for characters and accessories into 'Season' collections that last 3-6 months. Each season will feature artwork from new artists, and all newly minted characters or rewarded accessories will feature the artwork of the current season.
Players get a small bonus for collecting characters from each season, but that's not required, and characters from past seasons can still earn rewards. Since accessories can wear out and get burned, accessories from past seasons can become exceptionally rare or even have their supply drop to 0.
I see this as a positive point because the gameplay is based on interacting with the Internet Computer. We believe that the Internet Computer will be massive and will have more users than any other blockchain.
So 10,000 or 15,000 avatars won't be sufficient, in my opinion. I want to back this up because there are now well over 1 Million Internet Identities.
The gameplay is passive and rewarding
The fundamental essence of the gameplay is that you interact with the Internet Computer to earn rewards and perks. That being said, this can be extended to areas such as decentralized social media and DeFi.
This requires collaboration with other dapps on the Internet Computer. The Internet Computer was created to foster innovation. Composability and the open governance models are some of the core features of the Internet Computer and allow the community to participate and engage in the growth of the network.
Canister functions ( smart contracts ) can be marked as permanent, so that the code cannot be changed or degraded across updates.
How will other dapps benefit from ICP Squad?
Big tech has entered the NFT space too, and Twitter announced that they will be rolling out a feature for authenticating NFTs as profile pics.
Anyone can use Internet Computer NFTs as their profile pic on DSCVR, and all of this happens entirely on-chain. It didn't take months to do this/roll out this feature. This shows us how composable the Internet Computer is. ICP Squad NFTs will bring a wave of new users to the Internet Computer and reward them using the dapps.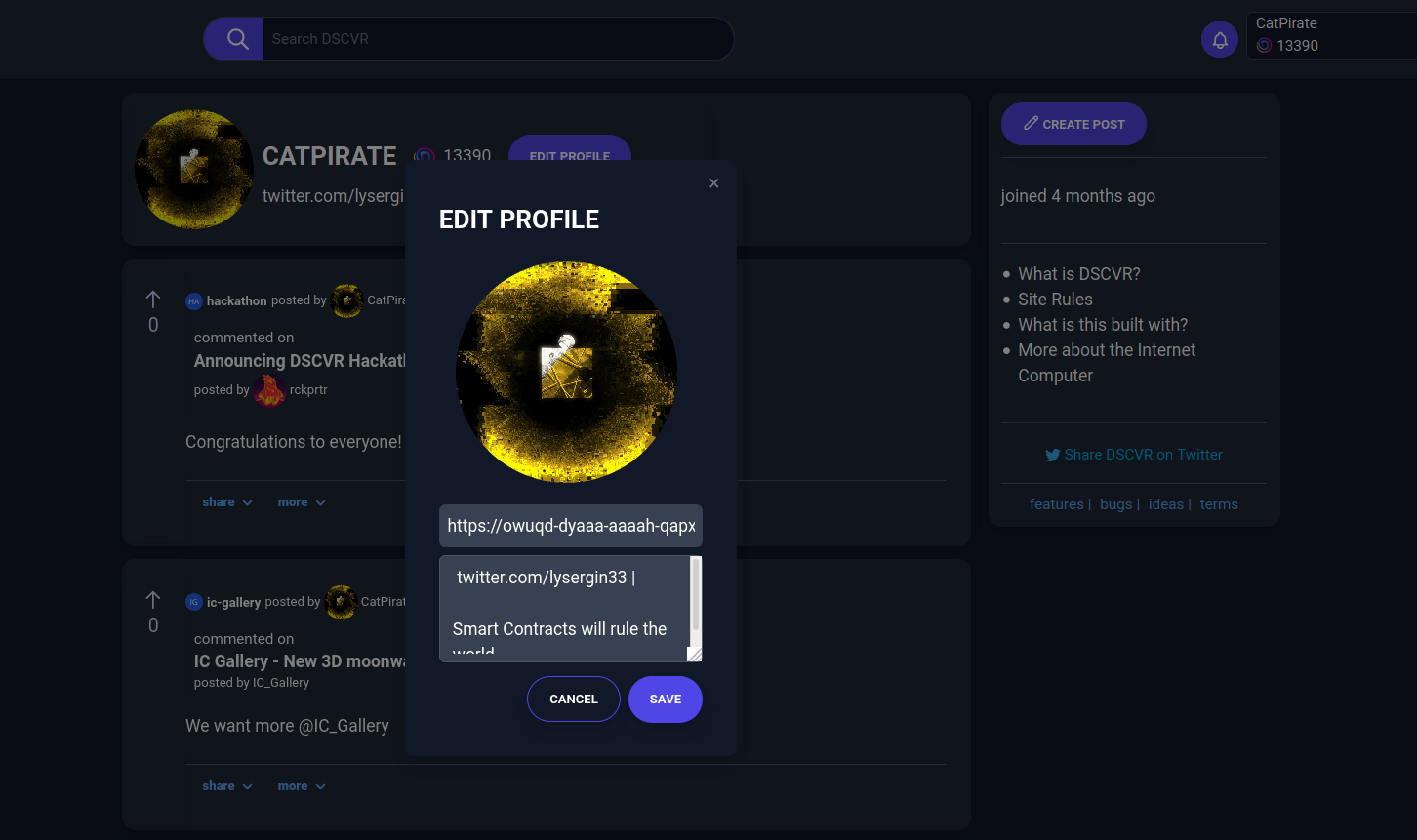 This will create a viral loop of users onboarding Internet Computer and engaging with the platforms.
How do the accessories Impact the IC dapps?
The NFT project will bring in more users and will create virality loops.
Creates a micro-economy for the gameplay, which boosts the dapp economy since some of the accessories are specific to certain dapps.
Reward quality users for engaging with the dapps, facilitating the growth of the ecosystem.
The avatar can help the users with getting familiar with Internet Computer Dapps.
Collaboration with the dapps to give privileges to players (holders) will encourage and reward the users as they use the dapps.
There are three main ways we can collaborate with apps.
The most basic way to directly incentivize engagement is by sharing data with our dashboard (similar to how it was done with Metascore) to track and reward activity on the app using the engage-to-earn model.
2.   Unique, app-specific accessories:
These can boost engagement during special events such as the launch of a new feature and or to drive brand awareness.
For example, they could airdrop a hat to users who take a specific action, and the hat has their app logo along with character property perks for actions on that particular platform.
As players have their Avatars wear the accessory, everywhere they use it across different platforms will update to show that logo and help drive brand awareness.
This gives apps the ability to easily and quickly reach a large audience of active Internet Computer users and hold contests to incentivize engagement. We can leverage our fair game mechanics and not need to build anything themselves to run those contests.
3.   Interoperability:
We could collaborate to create certain perks for players who own a certain amount of tokens or NFTs related to our partner.
For example, If a player has a wallet with ten or more IC Emojis, this unlocks a feature that lets them change the expression of their character to match the different expressions of their IC Emojis.
Suppose they own a certain number of a partner's tokens. In that case, they might unlock a special new background for their character or get an app-specific accessory (perhaps with no boosts but one that looks cool) automatically sent to their wallet.
Perhaps if they own an IC Punk, they can unlock a feature that gives their character clown makeup.
The ideas represented above are just an example and not a guaranteed feature for the MVP.
Whales shouldn't be able to dominate, and bots must be kept at bay.
We understand that whales and botting will degrade gameplay for other users, and therefore we are very strict with our whitelisting and gameplay mechanics. The gameplay is designed in such a way that it will be anti-whale and anti-bots. The legendary custom avatars of team members and early DFINITY pioneers will have no superpowers, and their legendary character attributes will be deactivated.
Here are some of the legendary custom avatars created by our artist Arun. These avatars resemble the faces of the legends.
Conclusion
I'm not particularly eager to speculate about prices, among other things in general. But we are highly focused on getting the primary objectives finished, including completing the art and the MVP ( Minimum Viable Product). The whitelisting process will be released soon by the team. Be part of this great innovative project or risk missing out!
---
Connect With Us:
Twitter | Telegram | Instagram | Facebook | Email
Connect with the ICP Squad:
Discord | Twitter | DSCVR | Distrikt
---
More Resources
---
---
Disclaimer: The views and opinions expressed on this website are solely those of the original author and other contributors. These views and opinions do not necessarily represent those of the Dfinity Community staff and/or any/all contributors to this site.
---
---