Hello and welcome to this new update on all things related to ICP Squad.
We have reached an impressive number of 5108 members in the Squad already.
Thanks for the fantastic support, and I hope you've all enjoyed minting and playing with your avatar!
Gameplay update
Accessories: Instead of removing accessories from your wallet every time you equip them on your avatar, we are now allowing people to equip and remove them whenever they want. You can now equip your accessory and still see it in your wallet.
To make things clearer we've come up with the concept of "Wear value."  
A new accessory will start with a wear value of 100, every time you equip it on your avatar, the wear value will decrease by 1; in the same way, every time you remove it from your avatar, the wear value will also decrease by 1.
Once an accessory reaches a wear value of 0, it will be automatically burned! 🔥
Each day, when the gameplay starts, if an accessory is equipped on an avatar, its wear value will be reduced by 1 point!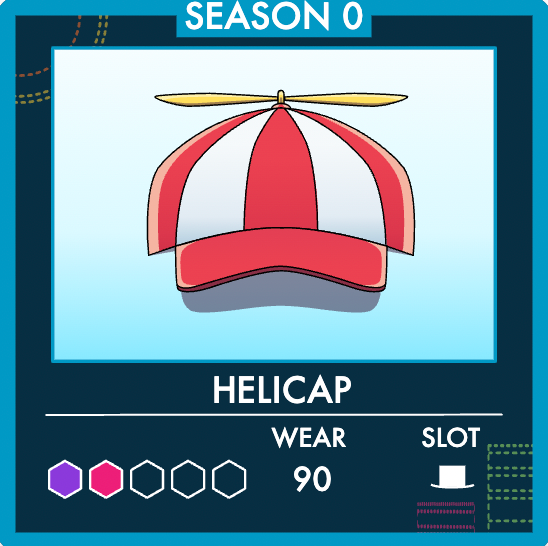 Lab: This is a new place that will be available on our website, really soon!
This is where you will combine materials (Cloth/Wood/Glass...) into authentic accessories!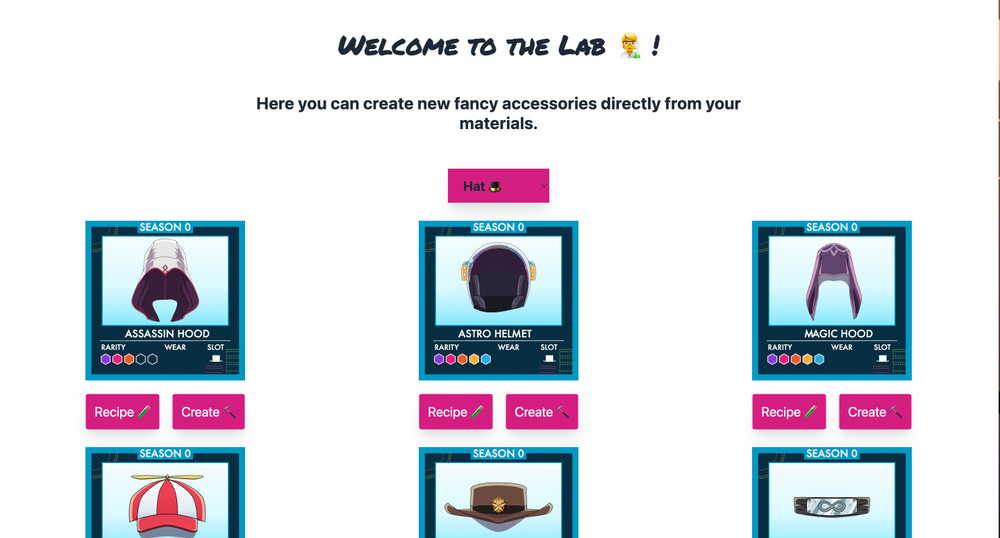 Each accessory has its recipe: you need to combine all materials (own them in your wallet) to mint the accessory! You can access each recipe for all available accessories.
Just before minting, you'll be prompted to pay the minting fee. This fee will go entirely into the ICP Squad Neuron that will benefit all squad members.
You can read more about the Neuron here.
We gathered feedback from the community through our Discord, and based on a community vote set the initial Accessory minting fee to 0.5 ICP. Over time this fee will change to keep the supply of Accessories balanced relative to the number of active players, either increasing to reduce inflation or decreasing to reduce deflation.
Missions
The purpose of missions is to slowly introduce the concept of "Engage-To-Earn." Implementing the complete "Engage-to-Earn" gameplay will require a lot of work and trials and will take some time.
More generally, this is why we are coming up with a progressive approach. Instead of releasing the entire gameplay at once, we will progressively add new features, always keeping the final picture in mind!
Missions will be regularly posted on our ICP Squad dashboard, and they will range from straightforward tasks (like retweeting/following a partner) to complex assignments (in-game challenge).
These missions will be rewarded with prizes: NFTs, materials to mint accessories, or even ICPs.
Partnerships
We are proud to announce that we have partnered with Cronics & Gigaverse to launch missions for their upcoming dapp releases!
These partnerships will include new materials & accessories with branded designs.
Here are some of the accessories for the partnership with Cronics: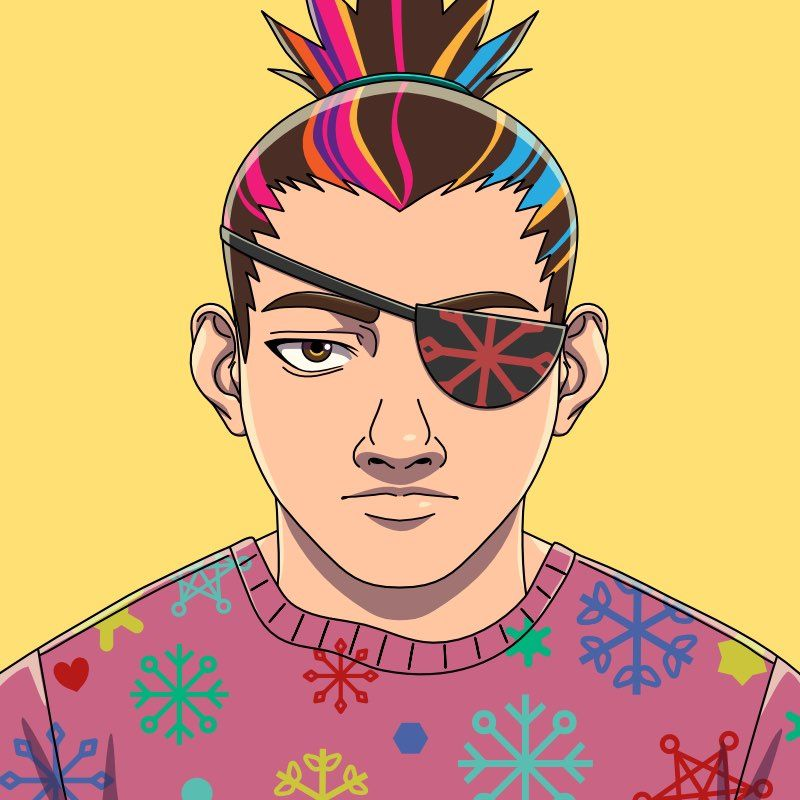 Those accessories will be mintable at any time using the accessory minter, but only if you own the associated essence.
Essences are unique materials that represent a partnership.
Here's the "IC Punk" essence.
Our partners will collect data on their users during the first 30 days after launch (Gigaverse will use the money spent on their NFT marketplace and Cronics will use rankings from their games) and then send us a ranking of their users.
We'll then do a fair, randomized distribution of rewards that are weighted by these rankings. The special branded accessories minted will eventually provide reward boosts or other perks when using the respective dapps.
For example, here's the breakdown of the prize pool for the Cronics Mission:
200 Cronic Essence material cards (every wallet eligible)
10 Animated Cronic-themed accessories (top 10 players)
20 Cronic-themed accessories (only wallets holding an ICP Squad character eligible, which you can mint for 1 ICP here)
Legendary auctions
I would like to introduce the legendary auctions. These auctions will be a way to get your hands on unique legendary accessories which never wear out!
Here are some of the benefits of holding Legendary Accessories:
It will never wear out, which guarantees continuous rewards from ICP Squad Neuron as well as a boost for winning additional Engage-to-earn rewards.
It will eventually contain membership perks for the DAO, such as a private DSCVR portal.
80% of the auction amount raised goes to support the project (and build the treasury for the future DAO), 10% goes to the ICP Squad Neuron, and 10% gets immediately distributed to all current holders of Legendary Accessories!
Legendary Accessories will be exceedingly rare, with less than 400 minted each year. It'll take at least 12.5 years for them to reach a supply of 5,000.
In the future, we plan to enable features that will let you safely rent/lend out your accessories to other users for passive income while keeping them in your wallet, and Legendary Accessories will be the most valuable and sought-after assets to borrow.
50 ICP minimum opening bid. We'll come back soon with the details of the auction.
We know that the high prices of the Legendary Accessories will make them out of reach for many of our users, but we think that it's important to intentionally design a way for whales to benefit the whole community of ICP Squad users without causing unfairness or ruining the fun for everyone else. Through legendary auctions, whales will be increasing the ICP Squad Neuron which rewards all other accessory holders. This increases the value and stability of our accessory economy so that we can effectively incentivize engagement on the Internet Computer.
In addition, the Legendary Accessory auctions will give our team (and eventually the DAO) a way to collect sustainable long-term cash flow so that we don't need to depend on multiple community raises to keep the project running.
Lastly, it's a new opportunity for big-ticket prizes during special community events like Motoko Bootcamp, where the 1st & 2nd place winners get awarded a legendary accessories. T-Punk will also be giving away one of his personal Legendary Accessories as the top prize in the Gigaverse Mission mentioned earlier!
Long term vision
I would like to end up this article, talking about the long-term vision for ICP Squad.
This is still a long way ahead but eventually, we would like to turn ICP Squad into an open internet service run by a DAO using the SNS which will gamify & unify the entire Internet Computer ecosystem, and provide an incentive tool any project can use to drive engagement for their dapps.
This means that eventually, ICP Squad will become a collaborative digital art platform where projects can distribute branded virtual merchandise that has utility for their dapp. This will give developers the ability to quickly attract new users from the community.
For users, it means the Internet Computer will be a blockchain where anyone can easily start earning rewards just by using dapps built on it.
What's next?
You may have noticed that our website is currently unavailable, we are running an important update on our canisters, it will be back at the end of the week.
Accessory minting will be live within a few weeks.
In addition, MVP gameplay (Engage-To-Earn rewards, more partnerships/missions, and accessory burning) will start within the next 1-2 months. Monthly airdrops of Engage-To-Earn rewards will be based on activity tracked across multiple popular Internet Computer dapps, including DSCVR!
---
---
Graphic Designer  - Jay Damani: Twitter | Instagram
---
Disclaimer: The views and opinions expressed on this website are solely those of the original author and other contributors. These views and opinions do not necessarily represent those of the Dfinity Community staff and/or any/all contributors to this site.
---
---
---