Launch Announcement
Overview
Intro
ICP Squad will be the first NFT game where owners can earn passive income by using their wallet and Internet Identity to engage with Internet Computer apps as they usually would, using a new reward model called Engage-to-Earn.
ICP Squad NFTs are Avatar characters that can wear accessories (which are also NFTs), and just by owning a character you'll have a chance to win an airdropped reward every time you take an action on the Internet Computer!
Goals
When we started work on our NFT concept, we wanted to avoid the pump-and-dump speculation-driven collections that are all too common in the industry and make something valuable and unique. These are the core goals we set for ourselves while developing this project:
Community-Led
ICP Squad is a contributor-run community with aspirations to eventually convert into a DAO (you can learn more about us here). The purpose of this NFT platform is to organically build a shared DAO fund that can be used for community projects that'll promote the entire Internet Computer Ecosystem.
With this in mind, we want this project to be community-led from the very beginning.
We'll collect feedback on everything we're proposing (from the launch process to gameplay mechanics) and then allow community members to vote on proposals via Discord to adjust these plans before implementation.
Unique for Internet Computer
The Internet Computer provides many new and innovative features that can't be done on any other blockchain. For example:
The ability to validate wallet activity in a way that ensures user privacy without sacrificing accuracy.
The ability to host NFT characters on the blockchain who can wear other NFTs representing jewelry and clothing to change their image dynamically.
Our goal is to take advantage of impressive capabilities like these to create exciting new types of NFT assets that'll drive Internet computer technology adoption.
Fair (Bot, Whale, & Insider Resistant)
Too many NFT projects are dominated by bots, large investors, and insiders who manipulate the market to benefit themselves unfairly. While we want to reward early adopters and contributors for making everything possible, our goal is to build a fair platform owned by and designed to benefit everyone. In this game, skill and planning are rewarded over deep pockets and sneaky loopholes.
Engage-To-Earn (Passive Income Assets)
The common Play-To-Earn concept used by other NFT games requires constant activity on specific apps, typically created by the original developers. As a community project, we wanted to find a way to reward and incentivize all types of activity across the Internet Computer to drive engagement which benefits the entire ecosystem. We call this new gaming model "Engage-To-Earn," allowing for assets that earn passive income for their owner.
Accessible
Most NFT art collection projects focus on limiting their supply to create high floor prices, which exclude anyone who isn't wealthy or lucky. This approach leads to scaling issues for gaming NFT projects like Axie Infinity, where at one point, an upfront investment of $1,000 was required so that you could even start playing the game. It can be nearly impossible to remove these types of barriers for new users without crashing the market for existing NFT owners, so it's a problem we believe needs to be addressed upfront.
We want to create an inclusive project with options that give anyone who loves the Internet Computer the ability to get involved and contribute. We've developed a dual-NFT strategy for accomplishing this, which (like everything) is open to feedback and proposals by community members like you.
Gameplay
Within the next few days, we will be releasing a Gameplay guide laying out the full details. In the meantime, here's a quick summary of the essential NFT gameplay elements.
Characters
Characters will be Avatars you'll want to use on your social media account. You'll be able to mint characters for a flat rate (with a floor of 1 ICP) and pick from a preselected assortment of the colors, hairstyles, facial features, and other elements to make a character that fits your style. Our first collection features human characters, but future collections may introduce aliens, animals, or other creative options. Holding a character in an active wallet (without it being listed on the market) gives you a probability of earning rewards, and you can significantly increase your chance of earning rewards by having your character wear accessories.
Characters will have visual elements that affect their appearance and properties that affect their ability to generate rewards. Character properties are independent of visual elements, and (while they are randomized) they come tightly balanced between four different quality levels:
Level 1 - An inexpensive starter option. It can be minted for a flat rate of 1 ICP.
Level 2 - Good long-term hold. It can be minted for a flat rate of 3 ICP.
Level 3 - Meant for serious players who want to take full advantage of their accessories. It can be minted for 5 ICP.
Legendary - Rare personalized characters that can't be minted. Distributed at special events, giveaways, hackathons, and community contributors.
We don't assign any gender or race labels to characters because that's not our place. Each user can mint a character with whatever visual elements they like and choose a combination that brings them joy.
In addition, while we felt quality levels were necessary for enhancing gameplay, we don't plan on introducing breeding mechanics for characters. While breeding abstract characters like Cronic Critters is cool, breeding between Avatars used by real people on social media would get weird. Aside from this not fitting the economics of our game design, our goal is for it to be a welcoming and accessible tool for everyone to make an Avatar they relate to and feel safe using on their social media.
Accessories
These valuable assets are both the rewards sent to winning characters and the best way to boost a character's chance of winning rewards. In addition, they give owners the ability to customize the appearance of their Avatar!
Each Accessory comes with unique effects that modify the properties of any character who wears them. Here are some of our early ideas:
Party Hat: Increases the chance of winning rewards by 500% for social media-related activities on apps like DSCVR or Distrikt.
Business Suit: Increases the chance of winning rewards by 300% for economic-related activities like swapping tokens on a DEX or sending ICP to another wallet.
Diamond Hands: Gives the character a chance for winning awards just for holding ICP in their wallet. Increases odds of winning a reward by 800% for all staking-related actions and this bonus is increased to 2,000% if they have a neuron with an 8-year dissolve delay.
Accessories will have a low supply and high value, with a target floor price of at least $700. To accomplish a balanced and stable accessory market, we've designed these inflation and deflation mechanics:
Inflation is controlled by sending daily accessory airdrops to characters who win a reward. The winners can then choose to either have their character wear the accessory or list it on the market.
Deflation is controlled by making accessories slowly "wear out" over weeks, months, or even years as characters wear them. Once worn out, the accessory NFT is burned. The one exception being legendary accessories that don't wear out (more about that later…)
Economics
We'll be releasing more gameplay details later, but for now, we want to summarize some key points:
Every player will have a non-zero probability of winning any accessory, no matter how invested the player is or how rare/valuable the accessory is.
There will be a cooldown time between rewards and several other mechanisms to defend against bot activity.
We'll be using quadratic math formulas to prevent whales (or anyone) from being able to unfairly hog rewards. This places a cap on the ability to win rewards that will prevent players from gaining drastic long-term advantages, no matter how many characters or accessories they own in their wallet or how much the engage on the Internet Computer.
This means every player has a chance to win a reward worth >$700 at any time, just by holding at least 1 character in their wallet. We expect many players will own a character without any accessories, and while it's unlikely that they'll win rewards often they'll always stand a fair chance of snagging a win.
More serious players can invest in strategically buying multiple accessories which boost the types of actions they most commonly do on the Internet Computer. In this way, they significantly increase their odds of making an exciting amount of profit!
Seasons
We'll be launching new seasons with character and accessory artwork created by multiple artists, highlighting the creative talent from across the Internet Computer community!
Seasons also add an element of visual rarity, since all-new characters and accessories minted will only be for the artwork of the current season. Once a season is over, there will never be characters or accessories with that artwork generated again.
This gives early adopters the status symbol of being able to feature characters from our first Season. It also means that some editions of accessories will completely disappear once the last one wears out, and there's the potential for collectors to trade rare "mint condition unworn" accessories from past seasons.
Project Launch
In line with our community involvement and fairness principles, we will collect feedback from the community before launching the whitelist for pre-orders. We aim to avoid unfair auctions or highly exclusive pre-sales.
Roadmap
October
Step 1: Follow for updates - Soon, we will post more details on the gameplay mechanics, so subscribe and follow us on Twitter to ensure you don't miss it! This Wednesday, we will also be discussing this project with Liz Yang on a Dfinity Foundation Community Conversations Call (register here).
Step 2: Community Feedback - We will be launching a Discord to collect feedback on our concept. We will then convert these into proposals so that everyone can vote on improvements they agree with. Users who submit the best feedback will get rare NFT rewards, and in the future, we will be using this Discord to let the community participate in giveaways and vote on art concepts for the next season.
Step 3: Whitelisting - We hope to open the whitelist this month! Each community member will get the opportunity to pre-order one Season 0 Level 3 character for ONLY 1 ICP instead of 5 ICP. More details on these Season 0 characters are below. The funds raised will be used to complete the artwork for the entire collection, fund the development of the gameplay features, and start the DAO fund. The process to join the whitelist will be to send 1 ICP to the project wallet, fill out a Whitelist form (you'll get to pick colors and visual elements of your character from some pre-selected options), join the discord, and follow/retweet on Twitter.
To help ensure that as many community members as possible get the opportunity to reserve a character, we plan to keep the whitelist open for one week. We will only mint as many characters as users who join the whitelist, with the exception of 10-20 legendary tier characters that'll be used for giveaways and contributor rewards. However, we are also planning to cap the whitelist to a max of 20,000 submissions. We fear that too low of a cap may risk a FOMO rush that'll leave out too many people, and too high of a cap would risk growing the project too fast and over-inflation of Season 0 characters.
Q4 2021
Artwork Release & Airdrop - We'll release the artwork by airdropping character NFTs to everyone on the whitelist and listing the initial accessory NFTs on the Entrepot marketplace! At this point, all assets will be tradeable, and characters will be able to take accessories on and off. However, the gameplay mechanics won't be activated yet.
Gameplay Launch - Once development and testing are complete, the basic game mechanics will be activated so characters can start earning rewards, and accessories will start wearing out when worn.
Q1 2022
Season 1 Launch - We will release more advanced game features and artwork for a new season of characters and accessories!
Season 0 Characters
These first characters are made with love to be cherished by the early adopters who will make this project possible. We've chosen a human-based design with DFINITY accents that we hope will appeal to a broad audience of Internet Computer enthusiasts.

Artist: Arun Nair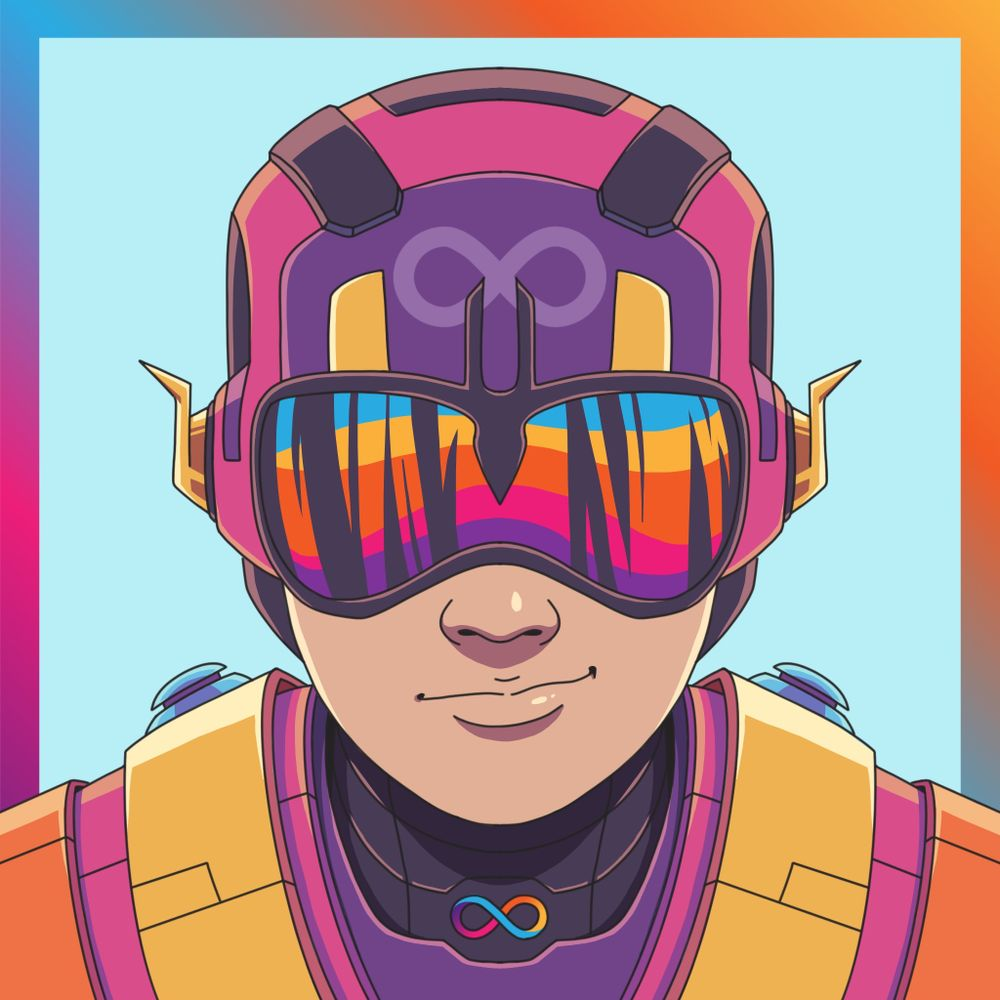 Arun caught our attention because he is already known for creating fantastic custom Avatars for a handful of the earliest DFINITY team members and community admins. Out of all the art concepts we collected for review, his work best captured our vision for the Season 0 characters and reflected his excitement for this project. You can find more art by Arun on his Instagram (@_arunarts).
Season 0 Lore
Stay tuned! We plan to launch a contest for writing some engaging Lore for our Season 0 character design. The winner gets a personalized Legendary character as described below.
Community Involvement
If you are interested in becoming a contributor to this project, please let us know by filling out this form.
Top contributors will be rewarded with the first legendary assets that will ever be minted for this project. Unlike Level 1-3 characters, which are put together from pre-selected standard Season 0 options, legendary characters are personalized and come with rare accessories made for the top project contributors:
Developers
We are looking for help building this project! We are currently getting some support from Toniqlabs, but we are looking for someone to lead our technical development team and we'll also need a few more key technical contributors for both backend and frontend work.
Artists
Want to have your work highlighted in a future ICP Squad season? Join our community, follow our Discord, and submit concept designs for the community to vote on!
Partners & Supporters
We've already been working closely and getting excellent support from Toniqlabs and DFINITY Foundation. Still, our team is looking to collaborate with as many Internet Computer app projects and ecosystem supporters as possible. Send us a DM, and we'll love to explore ways we can collaborate to drive engagement and exposure for the Internet Computer community.
---
JOIN THE ICP SQUAD COMMUNITY:
Twitter | Subscribe to earn | Discord
---
---