The largest Internet Computer community – Dfinity Community – has joined forces with ICPort, an acceleration platform to help startups scale rapidly in the Internet Computer ecosystem.
Dfinity Community is ecstatic to announce a new strategic partnership with ICPort that we are certain will benefit the Internet Computer ecosystem for many years to come. ICPort is determined to help startups attain rapid growth while at the same time assisting investors to have a simplified manner of gaining early access to unique and lucrative opportunities.
Following communication and meetings between our project teams, it became evident that this partnership would not only be mutually beneficial but would also impact the entire ecosystem in a positive way. The type of projects that ICPort will help scale and the investors who will benefit are some of the very projects and community members that Dfinity Community was developed to support. So this partnership makes sense on every level.
The Internet Computer ecosystem is already growing by leaps and bounds. To date, 580 million blocks have been generated (as of February 23rd), and this is only the beginning. Projects benefit greatly from DFINITY Foundation grants and Dfinity Community promotions. However, the targeted acceleration methods being implemented by ICPort make this project a unique way for new startups to compete with legacy projects that may have a headstart in the ecosystem. Therefore, ICPorts will help draw new developer teams to the community.
At the same time, investors need to know what new projects are coming to the Internet Computer, and they want a simple way to be able to get in early on the incredible dApps that are going to shape the future of how we interact with cryptocurrency, social media, DeFi, NFTs, and the blockchain in general.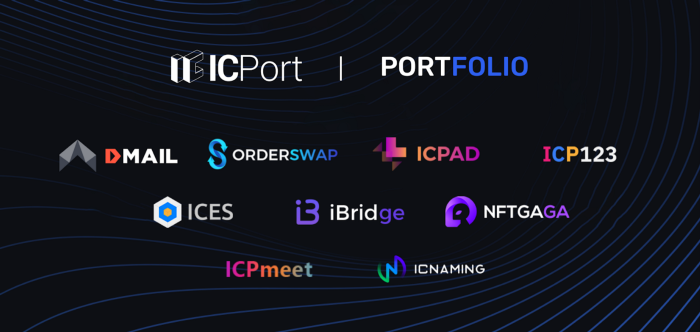 The ICPort Roadmap
Here is a quick look at what ICPort has already been able to accomplish and what is ahead for the rest of 2022.
2021 Q4 (accomplished)
· Market research
· Project plan finalaization
· Economic model design
· Product framework
2022 Q1 (current activities)
· Kick off seed sale
· Kick off private sale
· Token listing
· Project investment
· Launch staking pool & dividend pool 1.0
· Launch automated project assessment tool v 1.0
2022 Q2
· Node creation
· Project investment
· Launch DAO governance toolkit 1.0
· Launch NFT badge function
2022 Q3
· Create Dfinity index
· Launch data module/watchlist 1.0
· Launch automated project assessment tool v 2.0
2022 Q4
· Launch DAO governance toolkit 2.0
· Plug-in product functions source from partnership projects
CURRENT PROJECT PORTFOLIO
· Dmail
· IC Naming
· ICES
· Orderswap
· ICP123
· ICPad
· ICPmeet
· Bridge
Connect With Us:
Twitter | Telegram | Instagram | Facebook | Email
---

---
Graphic Designer  - Jay Damani: Twitter | Instagram
---
---
---