For the first time in about two months, I can happily report the Internet Computer NFT marketplace is showing signs of renewed life. The rapid sellout and subsequent secondary marketplace success of IC Bucks (from DKLORD and Egido Val) was followed by same-day sellouts for IKUZO and ICPXY. If that wasn't enough of an indicator that liquidity is flowing again in the Internet Computer ecosystem, two of the core NFT projects with extremely high floor prices also saw sudden increases this week.
Let's take a look at the top-performing NFT projects for the week. And be sure to read to the end for some exciting BREAKING NEWS from the Internet Computer ecosystem.
NFT Projects on the Rise
For the first time in a while, there are too many projects with rising floor prices to mention them all. Here are some of the top performers by category.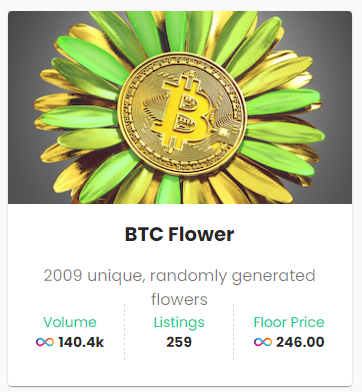 Core Projects with Floor Leaps
BTC Flower – With the Punks coming in late May/early June and the Flower Power DAO also progressing toward Q2 completion, it's not a surprise to find the floor price of what is arguably the flagship NFT on the Internet Computer rising rapidly. After all, holding a BTC Flower gives you the first shot at the pineapple avatars as well as future collaborative collections. Whitelisted wallet addresses having an advance private sale. Plus, BTC Flowers have double the DAO voting authority as ETH Flowers. While ETH Flowers are more affordable and will certainly have a role in the future of the project, true OGs are hunting for any BTC Flower they can get their hands on before getting priced out. Thus, the sudden 27% leap in floor price from 193 ICP to 246 ICP makes sense.
DfinityDeck: Paradigm – Another core project on the Internet Computer, DfinityDeck, is continuing to launch new decks to work toward their DeckSwap roadmap. As a result, their OG collection, Paradigm, saw an impressive 37% leap from 139 ICP to 190 ICP (with only 13 of the 54 NFTs remaining on the market).
Projects with Three Straight Weeks of Floor Price Increases
ICelebrity – ICelebrity has posted a floor increase for three consecutive weeks, this time from 22.5 ICP to 24 ICP. Just three weeks ago, the floor was at 10.5 ICP. That's a 129% increase in just 21 days!
Dfinity Donkeys – Boy, does the crypto/NFT community love meme coins! The proof is in how people are slurping up these Donkey NFTs to get the upcoming promised airdrop of DONGE tokens – touted as the first meme coin on the Internet Computer. The Donkeys saw a modest floor price increase this week from .5 ICP to .54 ICP. However, this is a 100% leap from the .27 ICP price of just 21 days ago.
Massive Floor Sweeps that Boosted Floor Prices
Avocado Research – A whale who is bullish on Avocado Research swept 89 NFTs from the floor last week, marking one of the most impressive floor sweeps in recent history. The result is an 18% floor price increase from 2.37 ICP to 2.79 ICP.
Prime8s – The Prime8s team grew eerily quiet in the week leading up to the expected launch date of Monkeys (the follow-up to the Prosimians collection). Then came the big news. There isn't going to be a launch. The Monkeys collection has been reduced to 2000 NFTs and is being airdropped: 1 Monkey for every 2 Prosimians in a wallet. This has led to a series of floor sweeps as airdrop hunters try to claim as many Monkeys as possible by acquiring affordable Prosimians. In the meantime, collectors with an odd number of Prosimians are trying to buy one more (or sell one now that the floor is hot).
While the floor price is up 42% from .28 ICP to .4 ICP, that is still a very reasonable buy-in point to receive the airdrops, especially since it was announced that the rest of the Prime8s collections will follow the airdrop method, likely requiring collectors to hold a certain number of each of the preceding collections to obtain the increasingly rare NFTs (Gibbons are next according to the roadmap).
It was also announced that the Monkeys will be distributed through and added to the secondary market on Gigaverse Labs' new marketplace. Additionally, it was revealed that the MetaChess collection on the Gigaverse Marketplace was a side project from the founder of Prime8s (Hunter) following his completion of the Motoko Bootcamp class that was recently hosted by Dfinity Community's Dfinity Alliance initiative.
What's On My NFT Project Radar?
Here are some of the big launches for this week:
· Tuesday – IC Birds (Entrepot)
· Wednesday – IC Giraffes (Entrepot)
· Friday – Dfinty Rats (Entrepot)
· Monday – ICNotes (Entrepot) / BoboEggs (CetoSwap)
One particularly noteworthy project that will be launching at the end of the month is called Puppet Originals. It is being created in partnership with CetoSwap and is being touted as the next generation of NFTs. Puppet Originals is a 10k collection of NFTs that will mine F-NFTs called PUP$. What makes this project so exciting?
PUP$ use end-to-end chain cryptography to be 100% gasless. Now imagine being able to use PUP$ across various NFT platforms as a marketplace token. Of course, this will rely on the partnerships that Puppet Originals is able to form, but there can be great Game-Fi applications. Some of the sales of Puppet Originals will go toward creating a treasury with investments in other dApps and NFT projects.
The Puppet Originals will be used to mine PUP$. Holding NFTs gets you an initial airdrop of PUP$. Whitelisted wallets will get early access to the sale but will be limited to one mint per wallet, and the price will be the same for everyone. While some puppets will be rarer than others, the mining speed of each puppet will be equal. You can learn more on the Puppet Originals website.
BREAKING NEWS: As I was writing this article, PODs from distrikt hit the secondary market. They've already done over 2000 ICP in volume, and the top individual sale is 99.99 ICP! As a long-time and regular user of the distrikt app, I will be keeping a close eye on this project, especially since the NFT trailer seems to indicate that the PODs will eventually open to reveal something inside. I love a good mystery!
That's all for this week. Stay positive, ICP fam – things are starting to look up!

---
Disclaimer: The views and opinions expressed on this website are solely those of the original author and other contributors. These views and opinions do not necessarily represent those of the Dfinity Community staff and/or any/all contributors to this site.
---
---
---