Floor prices on existing NFT projects on the Internet Computer seem to have stalled out with a few exceptions. Likely this is due to a second straight week of record-setting newcomers absorbing most of the liquidity in the marketplace. Who are this week's gainers? What new projects have entered the marketplace? Is scarcity signaling an early 2022 bull run for specific projects? Let's take a look at the past week in the NFT marketplace.
Gaming and Photography NFTs Take Flight
There are a few projects that saw advances this week in floor price. Here are the top gainers:
Photography NFTs – Wing, Flight, and Imagination all saw increased floor prices this week, marking a stellar week for photography NFTs on the Internet Computer. Flight gained 50%, with wing and imagination also increasing by 33% over last week.
Haunted Hamsters – I'm not really familiar with this project. However, I know there are only 3333 in existence, and fewer than 10% are available on the secondary marketplace. That kind of scarcity eventually causes gains. This week the Hamsters jumped from a floor of .30 ICP to .42 ICP, representing a 40% gain.
ICmojis – ICmojis makes our list two weeks in a row, no doubt on preparations for the upcoming Tournament. The floor price rose from 1.18 ICP to 1.40 ICP this week and doubled from the .70 ICP floor price of three weeks ago. The delay seems to have given players more time to assemble their team.
Newcomers Continue to Rule the Marketplace
Last week's newcomers, IC Kitties, and ICPets, have both experienced a settling of the floor price, but the volume certainly hasn't slowed for either project. ICPets have exploded past the 5,600 ICP mark in under two weeks, while IC Kitties have passed 9,500 ICP in total volume.
That means week two for the Kitties saw even more movement than week one. Of course, the Hold2Earn strategy on the ICPets project should cause the weekly volume to decrease as the pets find their way into the hands of long-term holders.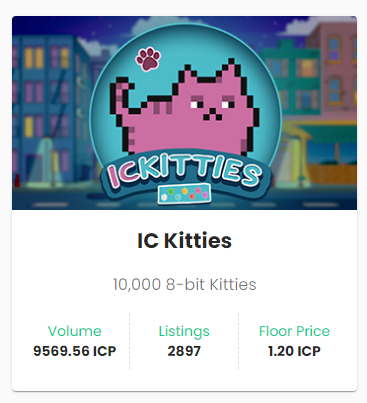 After a slow start, Cyman sold out in about four days. Part of the issue may have been the market accidentally opening the sale simultaneously. As a result, the secondary market saw 125 ICP in volume last week before selling out on Sunday. This week, nearly 1,200 ICP in volume has brought the floor price up to .55 ICP, which was the public selling price.
ICPrime8s may have set a record, selling out in mere seconds after an initial issue caused a delay in the public sale that only allowed whitelisted buyers to make purchases for the first several minutes of the sale. In the end, they did over 650 ICP in volume in the first few days on the marketplace.
ICircle brought a mix of math and art to the marketplace that collectors crave. Not only did the public sale finish in under 10 minutes, but there have been 750 ICP in secondary market sales in the first 24 hours.
What I'll Be Watching Next Week and on into 2022
In the Ethereum NFT market, the floor price of Bored Ape Yacht Club flipping CryptoPunks made waves. Is a similar friendly rivalry emerging in the Internet Computer marketplace between the beloved Motoko NFTs and ICPunks? The punks have a significant advantage right now, with a floor price of 12 ICP to a floor price of 6.5 ICP for Motoko. However, the projects have something in common that could signal a bull run to start the new year. What is that?
In a word, scarcity.
Over the last three weeks, these NFTs have been disappearing from the market, not just due to sales but also due to collectors deciding to delist and hold. The number of punks on the market has declined three consecutive weeks, down a total of 29.5%. As of now, less than 6% of the existing collection is available for sale. The Motoko NFTs have experienced a similar week-over-week decline in listings. There are currently 19% fewer Motoko NFTs on the market than three weeks ago, meaning that just over 8% remain listed.
These stats may seem to give the continued advantage to the punks, but there is one thing they don't reveal. While most punk sales in the last week were at or near the floor price, Motoko Day Drop saw sales of 60, 70, and 89 ICP, signaling that collectors may be hunting rares rather than focusing on sweeping the floor at the moment. So I'll keep an eye on both of these projects to see what happens.
Also, with the next new release (BTC Flower) not scheduled until January 3rd, I'll be watching to see if collectors refocus on supporting existing projects this week.
---
---
Disclaimer: The views and opinions expressed on this website are solely those of the original author and other contributors. These views and opinions do not necessarily represent those of the Dfinity Community staff and/or any/all contributors to this site.
---
---
---