Memes have become one of the biggest media revolutions in recent years. A sporting event, a historical fact, a political act, a TV program, a movie scene, and, in short, anything that happens around us can be the victim of a meme. Their success is based on the creativity, ingenuity, and mental dexterity of their creators who, with just an image, a GIF, a hashtag, a video, or simply a word or phrase, must awaken the target audience's interest.
Nowadays, we live in a society with information overload. A meme can go around the world in a few seconds and is a very influential tool that can convey a lot with very little.
The Meme Cake team is well aware of the value of memes and are building a decentralized platform on the Internet Computer that will allow you to prove the authenticity of your creation and create and sell memes from their application.
Meme Cake Platform
​Meme Cake is the world's first decentralized comedy platform for creators and artists to share their memes, comedy videos, or GIFs and register their Proof of ownership. Meme Cake makes it easier for creators to generate revenue either by selling or licensing the content. Exclusivity is guaranteed by a Non-Fungible Token (NFT) that ensures Proof of ownership: each token cannot be destroyed, removed, or replicated.
Think of it as a 9GAG but decentralized and with the ability to provide business transformation services. People behind this platform love to laugh, and it's for the global audiences, predominantly Generation Y (millennials) and Z (zoomers).
Meme Cake is the ideal meeting point to connect business with creators and infuencers who can generate content for product promotion, thus achieving a mutual benefit.
Its amazing design tools allow you to create your own memes on the Meme Cake Website & Mobile App. These tools are fully adapted to the creation of awesome Memes with images, animations, or video footage. The following video shows a preview of the alpha version for the Mobile App.
You will be able to access the platform with your Internet Identity, Plug Wallet or Stoic Wallet and sell your memes on the marketplace by following the three simple steps shown in the image below.
The platform will have a meme searchable database that supports sponsored search results like Google's and will integrate with centralized and decentralized app solutions like Slack or Openchat, with content embedded in posts and messages.
In addition, those users who already have a successful meme account on centralized applications such as Instagram will be recognized as Prime Members. This recognition allows them to earn rewards based on the number of existing followers.
The ultimate goal of Meme Cake is to evolve into a fully Decentralized Autonomous Organization (DAO), where all governance and decision rights belong to the platform users. By providing creators and collectors with the opportunity to propose and vote on platform upgrades, we ensure that the platform becomes a public good, responsive directly to its community members. On Meme Cake, you have a voice, and your voice is heard.
Official Channels: Website| Platform | Twitter | Discord | Telegram | Youtube | Email
The Cake Club
The Cake Club is a collection consisting of two different NFT characters: Dick and Balls. The backstory of Dick is pretty straightforward, and he had a complicated childhood. After disappearing from his hometown (Wachatoota), he reappears twenty years later with his pet "Balls." Dick is now an internet sensation, and he aims to conquer the town of Wachatoota with Dick memes. He is a lovely human being on the inside and a total Dick on the outside.
This collection, created by four friends who set out to make something fun over the blockchain,  consists of 7777 unique Dick characters, generated programmatically from over 120 characteristics. All Dick NFT holders will get airdrop of Balls NFTs on a 1:1 ratio. All you need to do is hold the NFT in your Plug or Stoic wallet.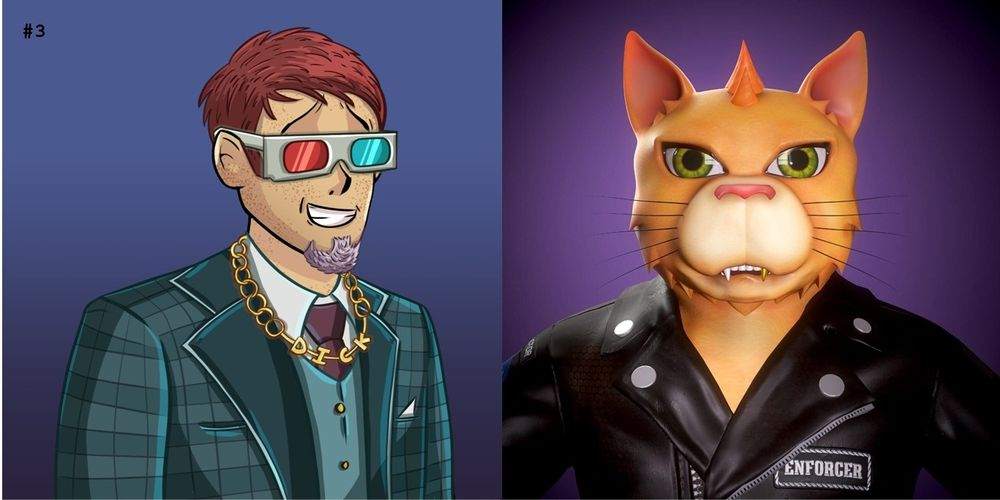 Your Dick NFT is your meme club membership card. In addition to receiving future airdrops, it gives you access to exclusive member benefits, the first of which is access to The Bakery, a collaborative meme art board.
Each Dick NFT has a fixed price of 2 ICP, which means that Cake Club membership costs the same for everyone. You will be able to mint your Dick at Entrepot on November 15. Besides, 2% of NFTs are being withheld from the sale, and these will be used for giveaways, puzzle rewards, and the creators' Cake memberships.
Apart from the beautiful art, this NFT collection also provides NFT staking rewards using the Proof-of-Importance(POI) consensus protocol, which defines the voting power of validators on the platform. The Proof-of-Importance score within the platform is determined by:
Each activity (above a minimum size).
The NFTs that have been on an account for a set number of days.
The amount of token you are staking.
More significant and frequent actions have a greater impact on the score. Accounts with a higher significance score will have a higher probability of being chosen as a Prime Validator. Rewards are paid using native MCK tokens.
Sales targets will unlock roadmap activations. Once a sales percentage is reached, the Cake Club team will start working on achieving that target, as you can see below:
For additional information, please visit the following link: Dick & Balls NFT collection.
MCK Token
MCK is Meme Cake's native digital token running on the Internet Computer blockchain. As the native platform currency, MCK will play the role of settlement medium, incentivization, staking, and platform utility token within the entire Meme Cake ecosystem.
Roadmap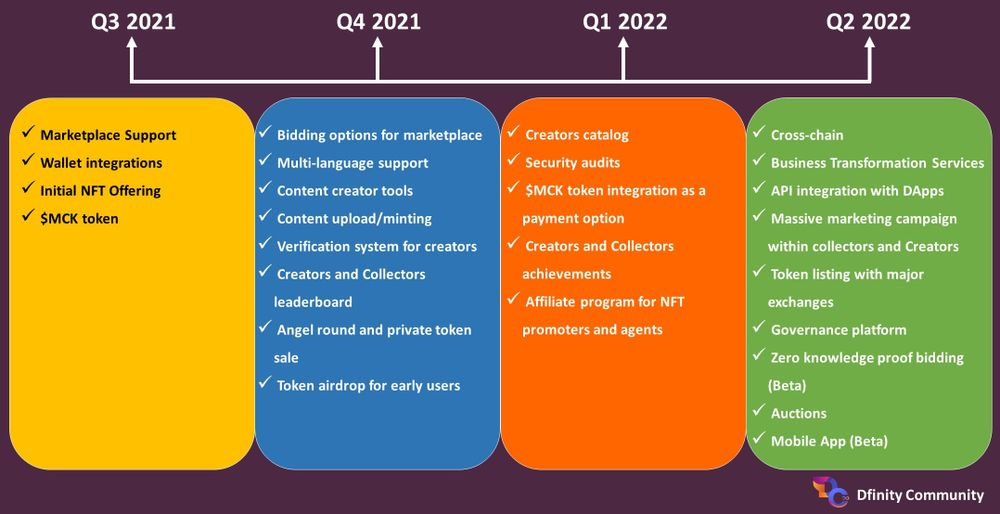 Tokenomics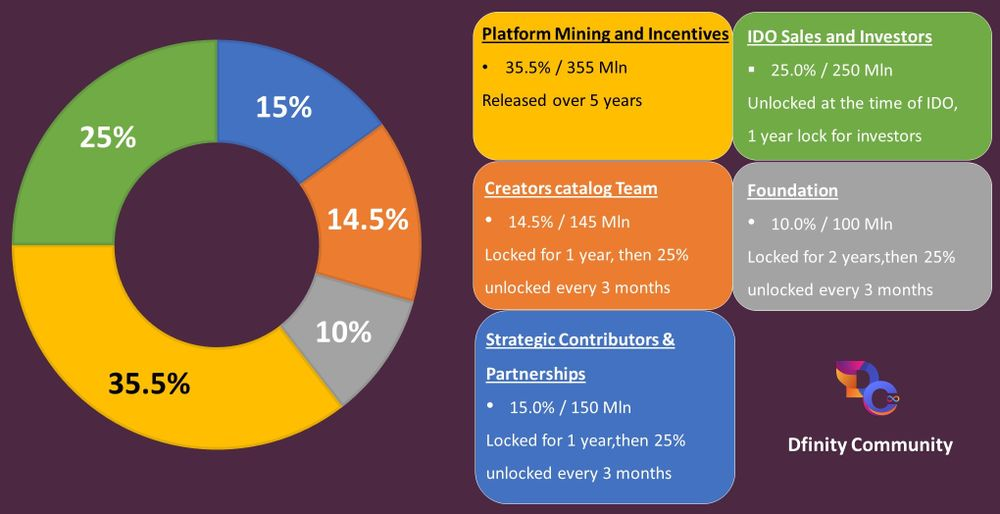 Learn more about MCK Token & Reward System here.
Conclusion
A meme can be extinguished in hours if it is not popularized by anyone and dies. Other memes can go viral and stick around for months or years, but most pass into oblivion, leaving only a trace of humor in the past.
The Meme Cake platform will be the tool that will allow the traceability of a meme through NFTs. In addition to guaranteeing the originality of the work, its virality will be reflected both in the value it achieves in the market and the recognition of the author's work.
The Meme Cake project also includes the Cake Club collection of NFTs and its native MCK token, which will serve as a payment method for rewards on its platform.
Connect With Dfinity Community:
Twitter | Telegram | Instagram | Facebook | Email
---

Disclaimer: The views and opinions expressed on this website are solely those of the original author and other contributors. These views and opinions do not necessarily represent those of the Dfinity Community staff and/or any/all contributors to this site.
---
---
---