Internet Celebration Protocol: ICP Turns One
On May 7th, the IC's first birthday, there was a lot to celebrate, as we have seen the network grow by leaps and bounds, deploying over 65,000 canister smart contracts since Genesis in 2021. The ICP ecosystem is now home to vibrant, user-driven social activity (on dapps like DSCVR, Distrikt, and DSocial), a nascent-but-enthusiastic NFT market and a strong core community that believes a better, truly decentralized internet is worth fighting for. Happy birthday to us all!
Crypto All-Stars to Speak at Supernova Kickoff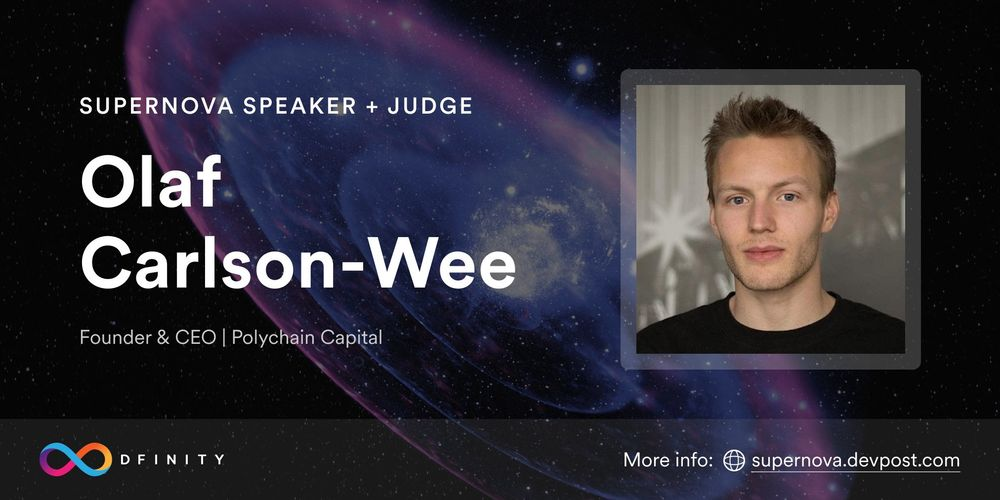 Supernova, the first global Internet Computer hackathon, begins on May 10th at 11 am PST! Ryan Selkis (founder and CEO of Messari), Olaf Carlson-Wee (founder and CEO of Polychain Capital), and Tom Series (of Warburg Serres Investments) will be speaking at the kickoff event.
The six-week hackathon, running from May 10 to June 20, has a total prize pool of up to $6 million in direct prizes as well as grants and funding opportunities from partners like Polychain, Huobi, Tomahawk VC, and more. Official site here.
DFINITY Zoom Call about SNS Rewards Proposals
Everyone is invited to join in on the conversation about SNS rewards model proposals. You can participate via the forum or by attending a Zoom webinar on May 11th, 6 pm Zurich time, hosted by the DFINITY foundation.
Service nervous systems (SNSs) are algorithmic DAOs that will allow developers to create decentralized, token-based governance systems for their dapps on the Internet Computer. In this talk, we would like to discuss the design proposal for a first, simple SNS reward scheme.
Register to attend the Zoom call by filling out this form.
Community Governance Blooms with Flower Power DAO launch
The Flower Power DAO officially launched on May 6th, open to anyone holding a flower NFT (whether it be the BTC Flower, ETH Flower, or the upcoming ICP Flower). The DAO aims to become a community-controlled launchpad for highly curated art and collaborative works. The BTC Flower community can continue to grow and benefit as a group.
FP DAO is building an open-source NFT curation platform to be owned and controlled by its community. It has seeded a grassroots community of 1,000+ avid Ludo art collectors and ICP supporters, the ideal group to prove the dream of project self-governance.
Read more about the Flower Power DAO's future vision in their Constitution.
A Primer on ICP's Fungible Token Standards
While token standards are not something non-devs in other blockchains typically think about, it is not the case for the ICP community. Even the most casual community member is aware that certain crucial ecosystem developments have been stalled due to the lack of a token standard consensus. There are many currently in development, but DFINITY has not declared one as the preferred token standard.
InfinitySwap's recent article explaining the unique advantages of their IS20 token standard also serves as an excellent introduction to the different fungible token standards within the ICP ecosystem. You can find out more about IS20 as well as brief explanations of IC Ledger, DIP20, DFT, EXT, and DRC20 here.
Will The Real Dominic Williams Please Stand Up?
A Twitter account parodying DFINITY founder and CTO Dominic Williams has caused quite a stir in the ICP community. The @notdomwilliams account has made comedic posts about being behind the recent bridge hacks, forcing DFINITY employees to share a single key to the Zurich office, and being a fan of pop star Dua Lipa. The real Dominic Williams follows the parody account, leading some to jokingly speculate that Not Dominic Williams is actually Dominic Williams.

Connect With Us:
Twitter | Telegram | Instagram | Facebook | Email
---

---
Disclaimer: The views and opinions expressed on this website are solely those of the original author and other contributors. These views and opinions do not necessarily represent those of the Dfinity Community staff and/or any/all contributors to this site.
---
---
---