If you've been following the development of the Internet Computer's dapp ecosystem, you probably already know what Dmail is. This decentralized mailbox service has been part of the community almost since the beginning, just a few months after Genesis. The Dmail team's ambitious plan is to become a next-generation mailbox, combining the core utility of a traditional email service with the functionalities of an NFT domain account, all with a clear focus on keeping user data under user control.
Dmail is currently in the second round of its domain account Pre-sale. Their upcoming Beta Network launch will bring a slew of exciting new features available to users. If you haven't yet purchased your Dmail NFT domain account but are interested in trying out the upcoming features, read this article for an easy, step-by-step guide on how to buy your very own.
What makes Dmail so special?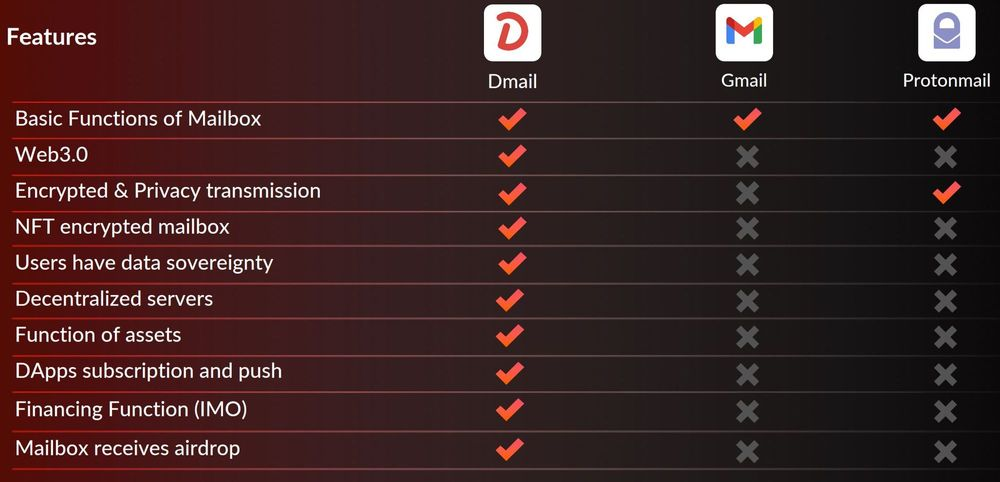 Dmail is the first mail application based on Web3.0 and DFINITY technology that integrates NFT and distributed storage functions, and is dedicated to building a bridge between the traditional world and the parallel world. Compared with traditional mail, Dmail gives rights of control back to users. Users can manage and access data with their private keys, and can also determine the future trend of the product through community Governance. Dmail is committed to providing users with a permanent service without a centralized server, and meanwhile ensuring the ownership and privacy of data.
(Source: Dmail litepaper)
Although niche email services such as Protonmail have become more mainstream in recent years, most people tend to stick with Big Tech's offerings, like Google's Gmail. There are a myriad of problems that these centralized email services can't—and won't, address. These problems revolve around issues such as user privacy, data ownership, continuity of service, and a reluctance to integrate with web3.
Dmail's mission is to create a decentralized mailbox service that puts true ownership into the user's hands while also meeting the specific needs of a blockchain-savvy consumer. Their development has put a focus on interoperability, which you will see demonstrated in their beta version.
The Dmail Beta Launch
Dmail will be able to interact with any mailbox, making cross-communication with web3 as well as web2 entities possible. You will be able to send and receive emails from anyone on any email service, regardless of the service provider.
Support for Plug and Internet Identity log-in
Settings will display the NFT domain account(s) owned in your Dmail account, and you will be able to choose one of them to bind with PID as your own mailbox domain account.
Support temporary saving of unsent drafts
Allow viewing of sent emails in the outbox and the ability to edit even after sending.
Autosave function for recently used contacts and addresses
Improved security features, like double verification of account and identity when interacting with Dmail for the first time
Basic 200MB storage space (which will include users to send up to 20 emails daily, with support for text, picture, audio, and video attachments).
The current Beta version doesn't support attachment downloads of 3MB and above.
Allow outgoing mail attachments up to 3MB
Dmail will also be upgrading the overall user interface and capabilities so that you can carry out functions like batch operations, mark important conversations, flag spam, etc.

Dmail's Road Ahead: NFT drops, an improved user experience, and more
Dmail has shown itself to be one of the hardest-working teams in the IC ecosystem. They won the Wanxiang Hackathon last year, raised capital from well-respected names in the venture capitalist world (Amino Capital, Draper Dragon, Hashkey Capital, in addition to global investment banks), received grant support from the DFINITY Foundation, and have recently announced a partnership with Phala Network, a privacy-enhanced permissionless computer protocol established in 2018 that is linked with Polkadot, Alameda Research, and other big web3 names.
The immediate future is sure to be exciting for Dmail fans. In addition to the Beta network upgrade, the team has revealed details about their 3D NFT collection, called '3D Crystals', which will be airdropped as an exclusive reward to early supporters, domain account holders, and active community members. To increase the chances of receiving one of these limited 3D Crystals NFTs, you can participate on Dmail's social channels (like Discord) and register for your own NFT domain account.
---
---