ICP price has risen above $20 USD and buoyed investors' hopes and confidence. Buyers who took advantage of low prices to accumulate ICP over the past month have already seen an approximate 25% return on their recent investments. After a long wait, analysts like Valdrin Tahiri are saying the Internet Computer has broken through a tough descending resistance line and could be on a path to ascendancy.
But why the sudden, positive change in fortune?
My previous price speculation offered reasons for hope, yet only a month ago, it seemed like hard times were ahead for the Internet Computer. Despite Kyle Langham's prediction that growing demands would overcome supply dynamics by the middle of the year, the conflict in Ukraine stirred widespread pessimism across cryptocurrency markets. In hindsight though, fears of a globalized confrontation proved ephemeral. The Russian army has underperformed and the Ukrainian resistance forces have held their own. Moreover, cryptocurrency exchanges have been beneficial to people suffering from the conflict. Indeed, President Zelenskyy is presently regularizing the crypto sector to handle an inpouring of donations.
Thus, rather than hindering the market, the conflict in Ukraine has further mainstreamed cryptocurrency. Because ICP has closely followed Bitcoin's and Ethereum's trends lately, this mainstreaming has contributed to a partial recovery for ICP price. Other contributing factors include:
The long term future looks bright indeed, but in my opinion, it will still take time for ICP to reclaim prices above $30 USD. A possible breakout in growth and price beyond $30 USD is highly unlikely until Bitcoin integration is finished. Fortunately, Josh Drake, the Chief Operating Officer at the DFINITY Foundation, has stated this development is imminent. Even assuming timely progress on Internet Computer roadmap milestones, ICP, and the cryptocurrency market in general, may still have to contend with the economic fallout of an upcoming US housing market crash.
Therefore, hope has arrived for ICP, but it is a measured hope.
Short Term Price Prediction
In light of recent, optimistic reversals in the market, I've adjusted my usual price projection methodology. Instead of looking at the past 90 days (which would forecast a continuing downward trend), I've opted to only look at March. Due to the anomalous impact of the conflict in Ukraine, this decision is justifiable. Any model that includes data from February will be pessimistically biased by a severe downward momentum that does not appear endemic to the market.
If current market conditions continue, ICP price should peak at about $25 USD by the end of the month. On the other hand, if the conflict in Ukraine deteriorates or the US housing market bubble bursts this quarter, cryptocurrencies could lose a significant percentage of their value. In a worst case scenario, ICP may once again flirt with its all-time low of $14 USD. Thankfully, that seems increasingly unlikely.
Here's your current 30-day forecast using the AAA version of the Exponential Smoothing (ETS) algorithm on the past 30 days of ICP price data, accounting for seasonality.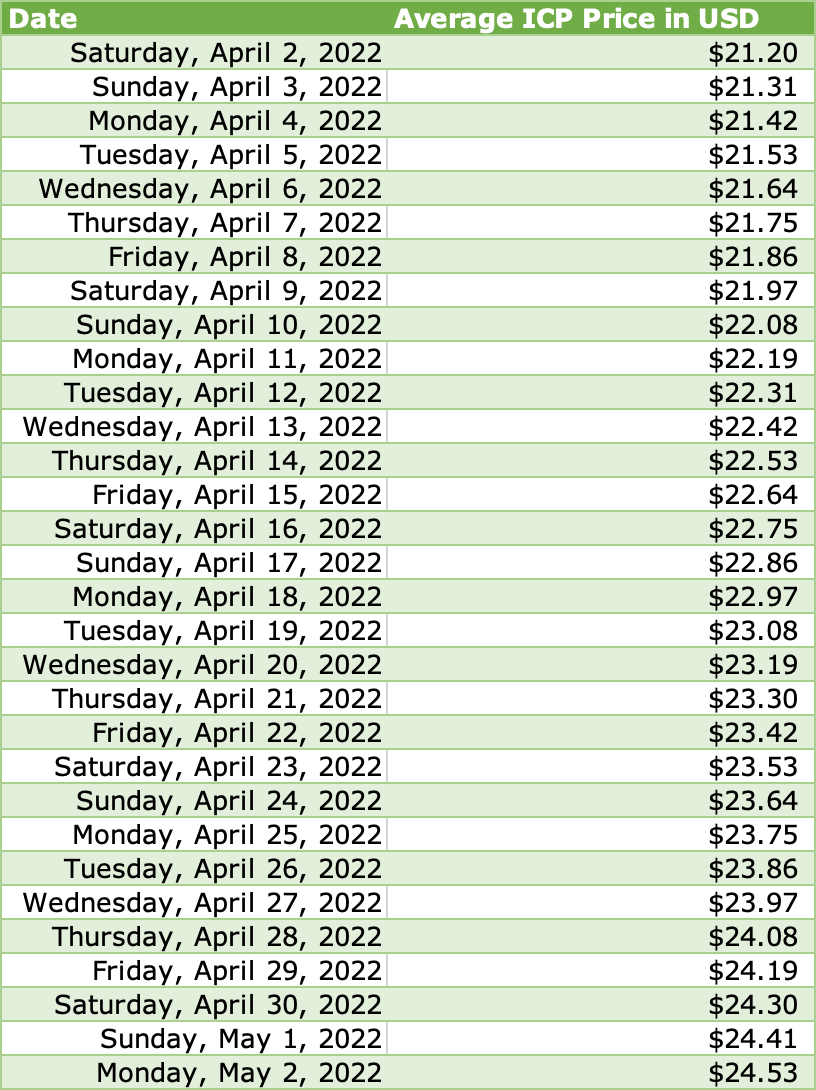 Connect With Us:
Twitter | Telegram | Instagram | Facebook | Email
---

---
Disclaimer: NOT FINANCIAL ADVICE
The information and opinions provided by the DFINITY Community should not be understood or construed as financial advice. We are not attorneys, accountants, financial advisors, or fiduciaries. Our speculations and suggestions are not a substitute for financial advise from a professional who is aware of your individual circumstances.
We do our best to provide accurate and valuable information and informed opinions. We also expressly recommend that you seek advice from professionals and will not be held responsible for any consequences of your investment decisions.
---
---
---