It has been a busy week with the ICP Squad NFT announcement, and the Bitcoin and Internet Computer Integration Proposal.

General DFINITY Updates
Over one million Internet Identities have been created.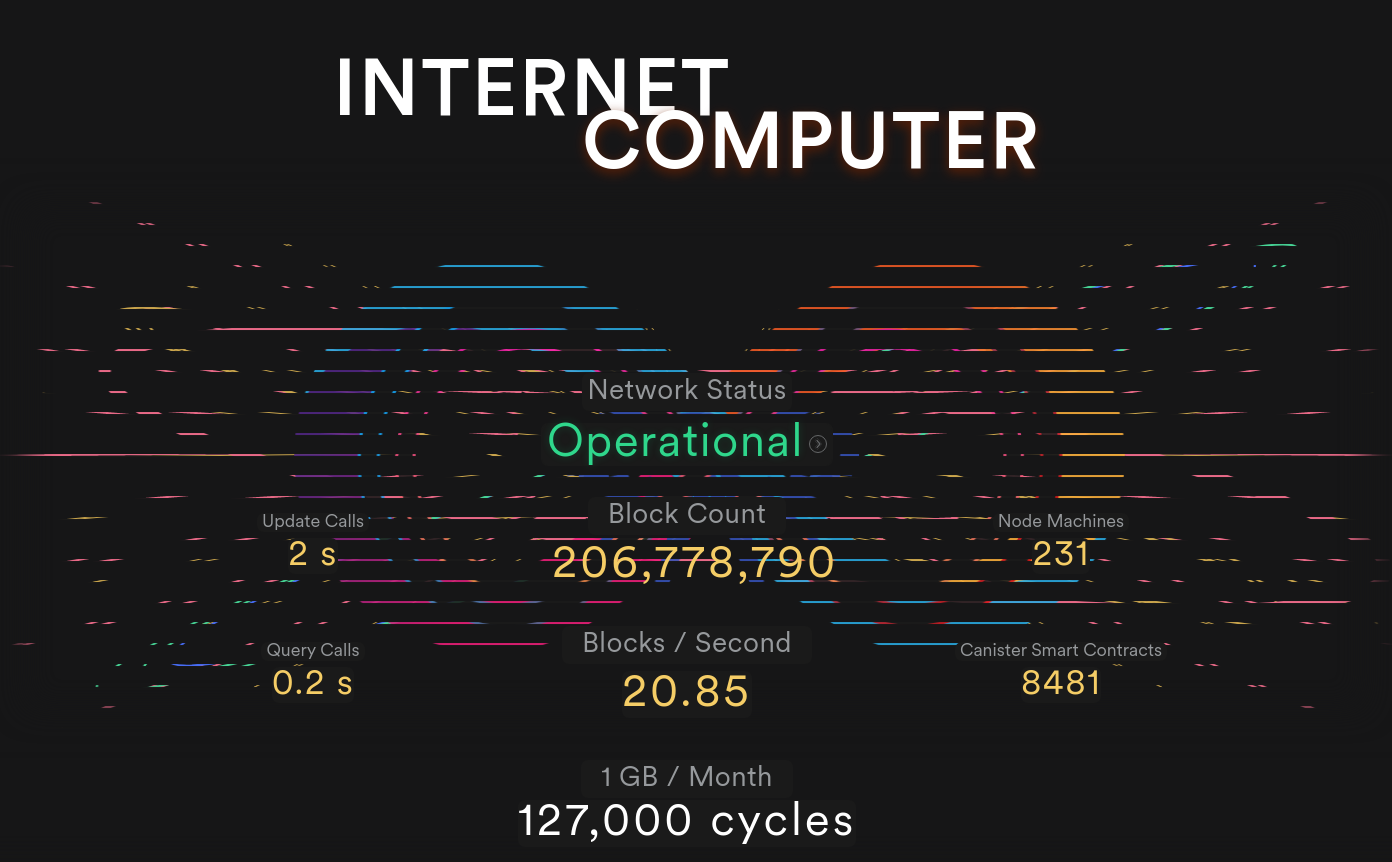 Initiation of project and design of Bitcoin <> Internet Computer integration Proposal was approved by Network Nervous System.
The Network Nervous system approved the initiation of Project and Design for allowing Canisters to Hold ICP Proposal.
Block count crosses 200 million.
DFINIHack winners announced by DFINITY Foundation | Medium Post - DFINIHack.
ICP League held an ecosystem conference and had more than 20,000 viewers.
Inside DFINITY Episode 4 Released.

Inside DFINITY and DFINIHack
Dominic Williams talked about hardware protection using encryption. He further introduced IC Vault, one of the DFINIHack winners on the series 'Inside DFINITY.'
Episode 004 - Powering dapps that keep user data encrypted.
DFINITY conducted their second internal hackathon where 50% of members participated and had announced the winners and showcased demo on their Medium Post.
Here is the list of dapps and Demo clips on YouTube.
Winner Projects
Sidekick - Build canisters with A few lines of code | YouTube Link.
IC Vault - End-to-End encrypted synchronization of data between Devices; Save passwords | YouTube Link.
PrivIC - Identity management on the Internet Computer | YouTube Link.
Runner-Up Projects
DeFind - Staking-based search engine for Web 3 | YouTube Link.
IC Notary - Timestamped Notarization service for documents or files | YouTube Link.
IC Netboot - Allows Developers to boot up a Virtual Machine | YouTube Link.
BTC Integration Proposal
The Proposal to initiate the work on Bitcoin Integration was voted 'yes' by the majority of neurons.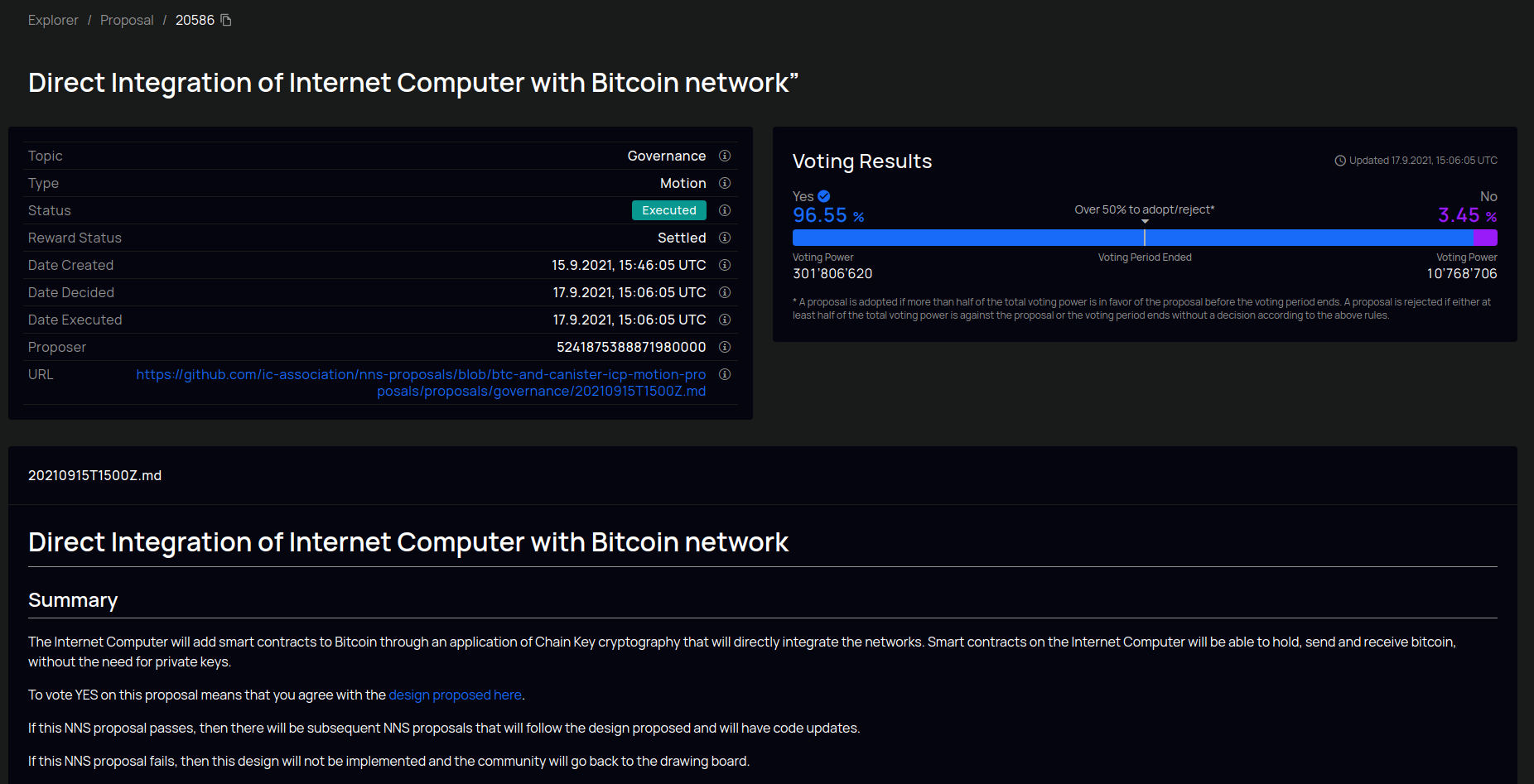 A proposal (#20586) to initiate work for the "Direct Integration of the Internet Computer with the Bitcoin Network" was submitted to the NNS on September 15, 2021 at 15:00 UTC.
To keep up with BTC-ICP integration, Check the developer forums.
Proposal to Enable Canisters to HOLD ICP
The Proposal to start the work for allowing all principals, including canisters, to hold ICP was submitted to the NNS and was voted yes by the Neurons. This will allow canisters and principals to hold and transfer ICP.
A proposal (#20588) to initiate work to "Enable All Principals, Including Canisters, to Transfer ICP Utility Tokens" was submitted to the NNS on September 15, 2021 at 15:00 UTC.
Check out the developer forum for more details.
Few developers also caution against the security risks associated with allowing Canisters to hold ICP.
ICP Squad NFT Announcement
Last week we announced our NFT Project.
ICP Squad will be the first NFT game where owners can earn passive income by using their wallet and Internet Identity to engage with Internet Computer apps as they usually would, using a new reward model called Engage-to-Earn.
ICP Squad NFTs are Avatar characters that can wear accessories (which are also NFTs), and just by owning a character, you'll have a chance to win an airdropped reward every time you take action on the Internet Computer!
The discord has not been made public yet, and we have 4000 members at the time of writing and are growing. ICP Squad also conducted meme contests on DSCVR, and the winner will get to Mint 1 ICP Squad NFT. Check out our announcement to learn more about the Project.
Dapps Ecosystem
Toniq Labs
Toniq Labs has updated the Cronic Breeding mechanics. The testing will restart, and the test Cronics have been burned, but testers will be rewarded with Real CRN tokens for the burned Cronics.
Around 15,000 ICP worth of Cronics have been sold; the floor price sits around 5 ICP.
The breeding test token faucet cap was decreased to encourage the users to earn tokens by Siring ( lending out their cronics for others to breed).
Distrikt releases Mobile Version for Android Users.
Distrikt released an Android version earlier this week. The application can be downloaded from Google Play Store. It provides a smooth user experience on Android, and the IOS version is not available yet. Although login takes a little time, I guess that can be improved.
Save the date - 22nd September |  Hackathon on DSCVR
DSCVR is experiencing rapid growth, and the site started to invite unwanted guests - that's right! - BOTS!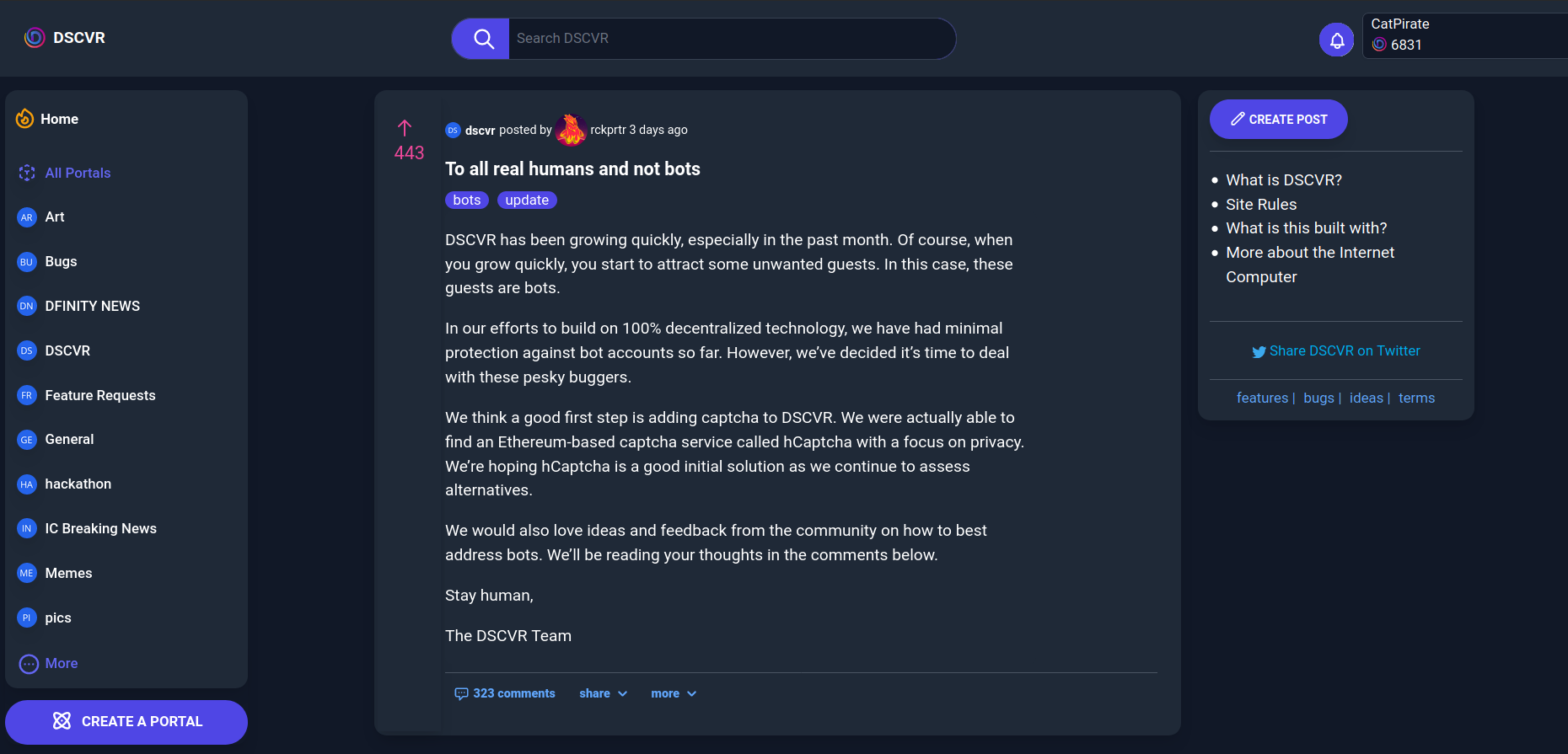 The Hackathon Season 2: The Integrated Game. DSCVR introduced a captcha system to slow down the bots.
Metascore
Metascore released details about the project and the Hackathon on its site https://oagmd-5iaaa-aaaah-qbnma-cai.raw.ic0.app.
Metascore is a mega-leaderboard that aggregates scores from Hackathon games and rewards top players with transferable and non-transferable rewards. 
Metaverse
ICP Squad further fueled the NFT explosion on the Internet Computer with the announcement of ICP Squad NFTs. Meanwhile, here are some of the NFT Projects that surfaced recently.
Kyle Peacock created IC Canvas.
IC Canvas is an interactive art project/experiment where many people can contribute one pixel at a time.
After the week has concluded, two next steps will happen. Everyone who participates will receive an NFT of a single pixel of the canvas. Also, the final version of the canvas will be minted as a one-of-a-kind NFT and auctioned off, with 50% of the proceeds going to charity. - Kyle.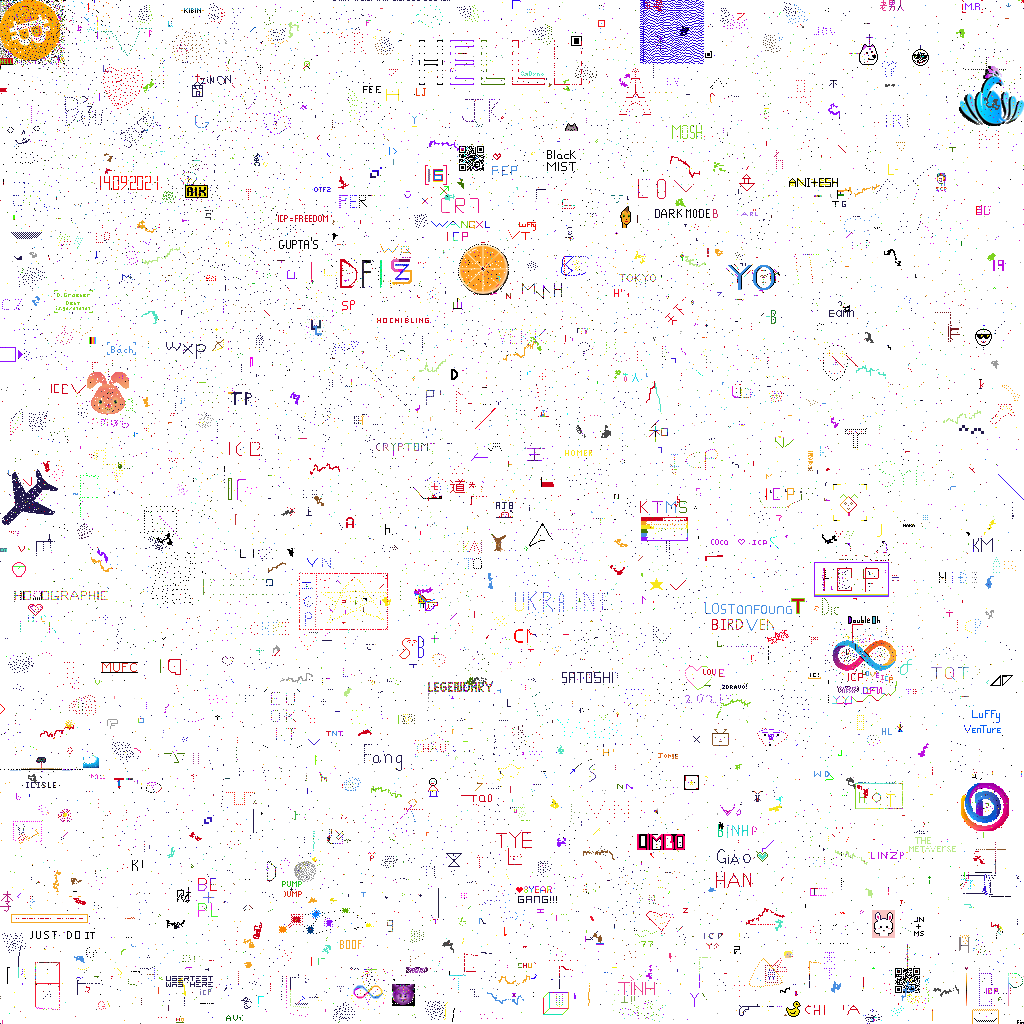 The NFT project ended earlier than the proposed time because it was vandalized by bots painting black pixels.
NFT Studio releases 3D NFT Engine DEMO

NFT Studio had also conducted an airdrop earlier this week. The 500 3D NFTs were claimed within few minutes of releasing the airdrop form.
ICPBunny new project
ICPBunny is user-generated NFTs. These Bunnies are yieldable and breedable. Each Bunny can bring you 10 carrots a day, and Carrots are the fuel for naming and breeding the Bunnies. Carrots are passive income for Bunny holders. The minting is done using Plug wallet, and the mainnet is yet to be released | Discord.
IC Gallery
IC Gallery is a 3D Metaverse Gallery for the NFTs and runs entirely on-chain. The team has released snapshots of the gallery on Twitter | Discord.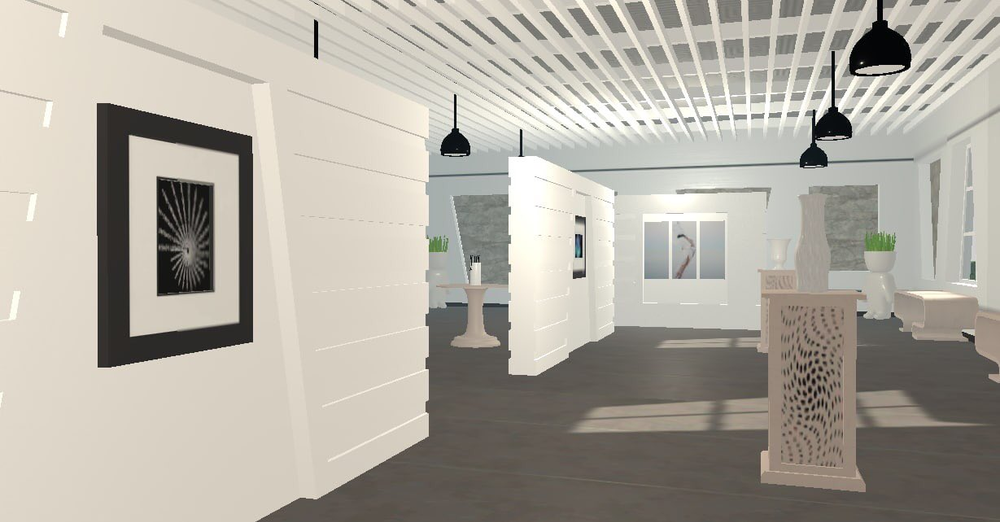 Number Theory NFT
Number Theory NFTs will be available on Entrepot.app. Meanwhile, you can join the server | Discord.
IC Drip
Open-source devs have taken up the IC Drip project and are contributing to the further development | Discord.
Flash Updates: Next week will be DeFi and Dapps
ICPSwap has released a FAQ on Medium addressing many questions.
DFIstarter has released a detailed roadmap on their Medium post.
EarthWallet version 0.3 is live and increased the bug bounty to 10k USD.
DFinance added Plug wallet support.
Infinity Swap has released a snapshot of their product Infinity wallet on the website https://infinityswap.one.
Plug released V0.3.3 and teased the mobile wallet application on Twitter.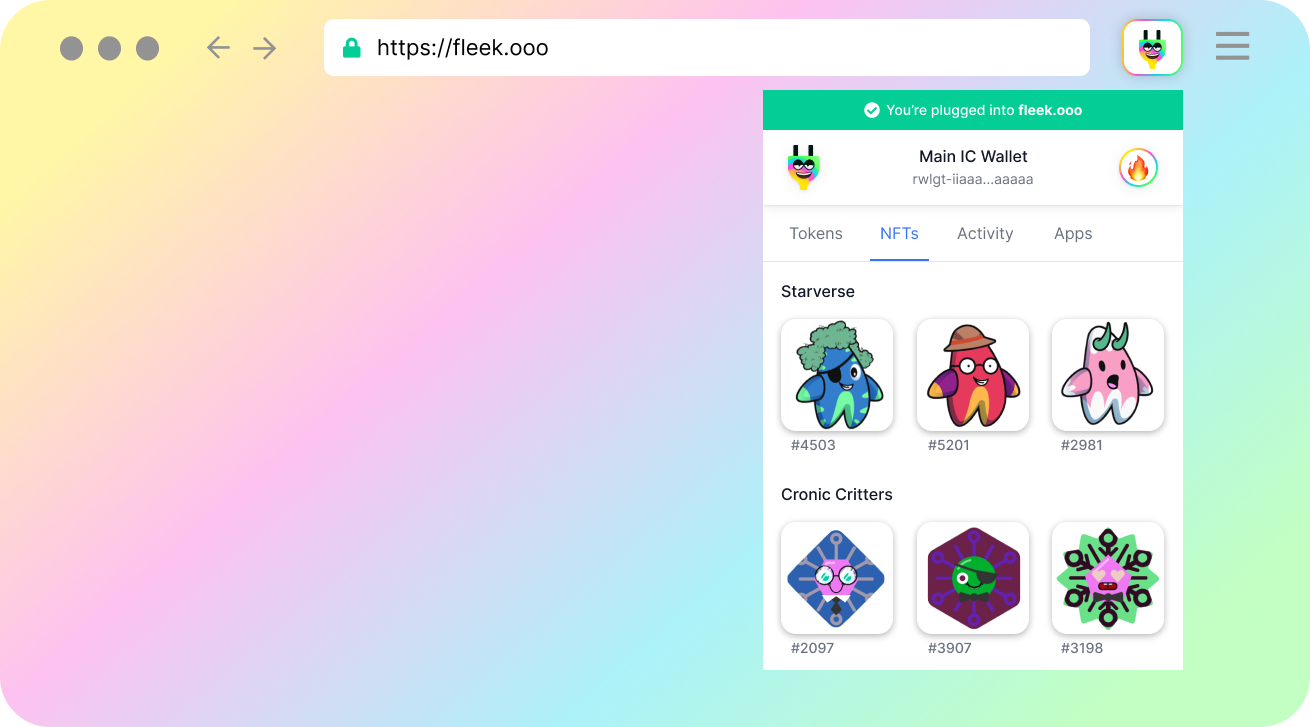 That's it for this week. I need a Coffee!
---
Connect With Us:
Twitter | Telegram | Instagram | Facebook | Email
Previous Editions:
---
---
Disclaimer: The views and opinions expressed on this website are solely those of the original author and other contributors. These views and opinions do not necessarily represent those of the Dfinity Community staff and/or any/all contributors to this site.
---
---
---